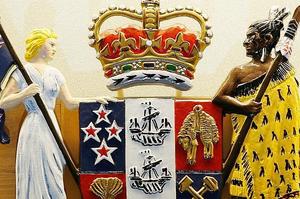 A man has been sentenced to eight years' jail for a near-fatal attack on a Napier couple who forgave him within minutes and hope he can still be a valuable member of society.
David and Kathy Tait, both 64, say they made their pledge in an ambulance on the night of October 31 last year, just after a volunteer worker burst into their Ahuriri home and bashed them because Mr Tait reported him to police for stealing from the couple's charitable clothes recycling shop.
The couple spoke last night just hours after seeing Kurt Edward Taylor, 50, sentenced by Judge Geoff Rea in Napier District Court, knowing that but for "one more centimetre" Mr Tait would not have been there to see the outcome.
He suffered a fractured skull as Taylor struck him several times on the head with a wooden weapon, before turning his attention to Mrs Tait, grabbing her by the hair and dragging her to the ground from behind, striking her head and telling her he was going to kill her.
"The key thing that we did going to hospital in the ambulance was that we made a decision to forgive," Mr Tait said.
In terms of their recovery "it worked", he said, and added: "We've spent more time comforting others than being concerned about ourselves."
It was an attack which stunned the couple as much as anything because of who was doing it, a man with only a moderate criminal record who Mr Tait said was "for 99 per cent of the time a really nice guy".
Taylor had been taken-on as a volunteer at their Seekers Megamart a few months earlier, but after some time Mr Tait realised donated clothing was disappearing, and when he became aware it was becoming part of a flourishing business run on the side by his worker something had to be done.
He lodged a complaint with police who were preparing for a search of Taylor's home when Taylor rang Mr Tait on October 30 to advise he was resigning after being caught for a third time drunken driving.
Mr Tait says it was a cordial exchange, not unlike others he'd had with other volunteers given work in the hope of helping them overcome alcohol, drugs and other issues.
Barely 24 hours later, Taylor arrived home, learned police had searched his Maraenui home, and drove across town to attack the couple, using a weapon he later claimed was a piece of wood used to "prop up the boot" in his car.
Mrs Tait, a nurse, heard the "foot-thump" on the deck outside, and then the enraged Taylor's attack on her husband.
The adrenalin kicked in as they battled for survival, as did "the nurse in me" when Mrs Tait saw her husband's injuries.
The attack included threatening a neighbour who came to their aid, and a return to the house to smash a TV set, a vase, bowls and windows.
The eight-year sentence was more than the couple expected, and Mr Tait, the son of late former Napier MP and Mayor Sir Peter Tait and who also works in the clothing project unpaid, said: "My biggest hope and dream is that Kurt will do the programmes that are available to him.
"He is a really intelligent guy and still has a contribution to make, if only he can overcome his problems with drugs, and alcohol, and anger."
Judge Rea said Taylor was lucky not to have been charged with attempted murder.
Taylor's wife was in the public gallery as Judge Rea said those who knew the attacker would be surprised by what had happened, the "moderate" past giving nothing to indicate he was capable of the violence he inflicted on the couple.
Mr Tait was struck at least five times on the head before fleeing. As his wife tried to escape, she was also hit on the head. After she fell to the ground, a neighbour was forced to retreat as Taylor threatened to kill him, and when Mr Tait tried to help his wife he was stalked back down the driveway and attacked again, copping another blow to the head.
Taylor fled but surrendered the next day after police announced he was being sought in relation to the attack and warned: "He is dangerous and volatile, and is obviously capable of horrendous acts of violence."
Taylor was sentenced to concurrent terms of eight years on separate charges of wounding Mr and Mrs Tait with intent to cause grievous bodily harm and the aggravated burglary of their home, three years for the threat to the neighbour and the damage to the house, three months for the theft of $6000 of clothing, and aggravated drink-driving, for which he was also disqualified from driving for a year and one day.
Defence counsel Tony Snell had said Taylor accepted a substantial prison sentence was likely, and the judge declined Crown prosecutor Josh Lucas' call for a minimum non-parole term.
In custody since surrendering, and given credit by the judge for early guilty pleas, Taylor will serve at least one-third of the sentence.
He will not be eligible to be considered for parole before July 2014, but the Parole Board says 90 per cent of inmates do not get parole at the first bid.
For more articles from this region, go to Hawkes Bay Today