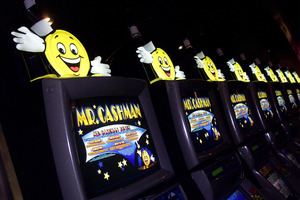 The Waikato-based Grassroots Trust is appealing against a Department of Internal Affairs decision to cancel its gaming machine licence because it did not give enough money to the community and gave too much to the pokie venues.
An Internal Affairs spokesman said the department cancelled the trust's operator's licence because it failed to return the legally required minimum 37.12 per cent of gaming proceeds to the community and exceeded the 16 per cent maximum to be paid to venues.
But the gaming trust appealed against the decision, claiming it had breached regulations rather than the Gambling Act itself and because Internal Affairs' ruling was inconsistent with its previous decisions.
The breach occurred in 2010 when the trust had a total income of $13.259 million but returned only 33.7 per cent or $4.47 million to the community, according to figures in its annual report.
The community was short-changed by $452,128.40.
In the same year, the trust also paid 16.7 per cent or $2.21 million of its total income from gaming to venues, again exceeding the legal requirements. Grassroots Trust chairman Martin Bradley said it was inappropriate to comment while the decision was under appeal.
Grassroots, which operates machines in 21 bars and restaurants, mainly in Waikato but also in Auckland and Bay of Plenty, can continue to operate until the Gambling Commission makes a decision.
But closure of the trust would be a big blow to its largest beneficiary, the already financially strapped Waikato Rugby Union, which received $3.027 million of the $5.66 million in grants Grassroots distributed in the year ended March 31, 2011.
During that period, the trust gave 68 per cent of it money to rugby, 19 per cent to other sports, 10 per cent to education and 3 per cent to community and welfare.
Prince Albert Tavern manager Rachael Hunt said it would have to look for a new trust if Grassroots shut down. The tavern is one of Grassroots' larger sites with 18 poker machines.
Several operators contacted by the Herald were unaware the trust faced losing its licence.
Problem Gambling Foundation chief executive Graeme Ramsey said he had been aware for a long time some trusts had not fulfilled their obligations and called for a review of the system so it was accountable and transparent.
"We don't believe you can have this when you have 50 self-appointed trusts administering money which is supposed to go to community purposes.
"What we've got at the moment is intense competition between trusts for venues and that's exacerbated as the number of venues and number of pokie machines declines."
Gambling Commission executive director Blair Cairncross said a decision on when the appeal would be heard could not be made until a number of pre-hearing matters were resolved.