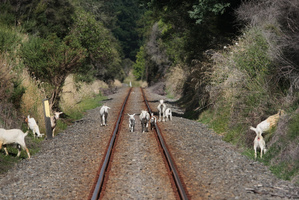 More than 8000 signatures have been collected on a petition urging the Government to save the Gisborne to Napier rail line.
Mayor Meng Foon is taking the petition to the capital tomorrow and will present it on the steps of Parliament at 1pm.
Railway advocate Ruth Romero is hoping to accompany him.
She is delighted with the response to the petition.
"Gisborne people have been brilliant. They have really got in behind it."
The line was closed at the end of March after heavy rain caused three dropouts, one a 100-metre wide chasm, near Beach Loop.
KiwiRail has said it will cost up to $4.5 million to fix the damage but other maintenance required on the line had to be taken into account.
A decision is expected by the middle of the month.
The line between Napier and Wairoa got a workout over the weekend, with three excusion trains in three days.
The passenger trains went as far as Opoutama, almost halfway between Wairoa and Gisborne, and back on Saturday, Sunday and Monday.
- The Gisborne Herald