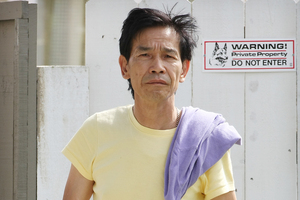 A welfare beneficiary who travelled the world and bought luxury cars was not prosecuted even though a Government Minister says "significant questions" remain unanswered in this case.
Paul Szeto was evicted from his taxpayer-subsidised state house by Housing New Zealand after the Herald revealed he was instead living in a rental property in upmarket Mission Bay with cars worth $250,000.
A request under the Official Information Act for a copy of the Housing NZ investigation report was declined in September on the grounds of protecting the privacy of Szeto.
The refusal was referred to the Office of the Ombudsmen which later ruled public interest outweighed his privacy in some aspects of the Housing NZ report. Ombudsman David McGee last week ordered a summary of the report to be released.
The investigation recommended that Housing NZ should terminate Szeto's tenancy and established a debt of $6452, which he has not paid.
"Repeated attempts by staff to get Mr Szeto to repay his debt failed, and he was referred to a debt collection agency last December," a spokeswoman said.
He moved out in April last year, the same month the 60-year-old was acquitted of methamphetamine and money laundering charges after a seven-week trial in the High Court at Auckland.
His co-accused, Max Beckham, a multi-millionaire businessman, was sentenced to 13 years in prison on serious drug offences.
Despite his acquittal, two Mercedes Benz and a Porsche worth $250,000 were forfeited to the Crown.
At the trial, the jury heard evidence that Szeto and his girlfriend Wei Na Shi - a 28-year-old also known as Candy - bought a 2005 Mercedes SLK convertible with $21,500 cash and two cheques totalling $50,000.
They bought a 2003 Mercedes sedan with $17,000 cash and four cheques totalling $80,000. A 2005 Porsche Cayenne was paid for with $66,785 cash in September 2008.
The Crown alleged the money was drug profits. Szeto's defence was that it came from other sources, including gambling. He was found not guilty but the police seized the cars again under the new Criminal Proceeds (Recovery) Act.
The law grants police the power to confiscate without proving a criminal offence occurred. The evidential threshold is lowered from "beyond reasonable doubt" to the "balance of probabilities" and the onus is on defendants to prove how assets were paid for.
Szeto did not contest the confiscation application and a High Court judge ordered his three cars be forfeited to the police, with the sale profits to go to the Crown.
A long-term sickness beneficiary after a liver transplant 10 years ago, Szeto also had his welfare entitlements investigated by the Ministry of Social Development after the first Herald story in February 2010.
"But after legal advice no prosecution was undertaken," said Chester Borrows, the associate Minister for Social Development.
"While some significant questions remain unanswered in this case, MSD must be confident it can prove any fraud charge beyond reasonable doubt before taking a criminal prosecution."
MSD head of fraud Mike Smith said that although there may be insufficient evidence to prosecute, an overpayment could still be established.
"We work with clients to have money they owe the Ministry repaid."
Szeto has a colourful history.
A former Hong Kong police officer, he was convicted in May 1991 of injuring with intent, causing grievous bodily harm and attempting to pervert the course of justice.
He ordered two men to beat up a Chinese restaurant owner in Hamilton who owed a business associate $5000. The victim's brother-in-law intervened with two meat cleavers, but was stabbed in the melee.
Police then bugged a telephone conversation with the victim's wife in which a man called "Steven" told her to deny Szeto was involved.
Szeto was sentenced to four years in prison. His lawyer, Lorraine Smith, revealed at the 1991 court hearing that Szeto had been forced to leave the Hong Kong police force because of a criminal conviction.
After serving his sentence, Szeto returned to Auckland where he became a regular at the VIP lounge in SkyCity casino. He is banned for acting as a loan shark and the Department of Internal Affairs is "aware" of Szeto's gambling activity.
LIVING IT UP
The summary of the report revealed Szeto:
* Had been the tenant of a two-bedroom unit near Narrow Neck beach in Devonport on Auckland's North Shore since April 2001.
* Had "significantly" more money than he declared to Housing NZ, with a cash income from November 2005 onwards.
* Lived with an undeclared partner in a Mission Bay rental home for nearly 12 months until the Herald story.
* Took frequent trips to China and went less often to the United States and Australia from May 2005.
* Bought expensive cars for cash with money from unidentified sources.