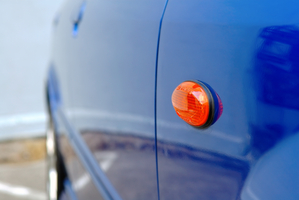 I've come up with the next great breakthrough for car manufacturers in their continuing cost-saving efforts.
I don't know if it's going to be up there with the Ford worker who had the idea of having only three spokes, not four, on the steering wheel, saving the company millions of dollars.
Are you ready for it? Don't fit indicators because no one uses them.
The art of reaching out, grasping a small stalk-like lever protruding from the steering column, and raising it or lowering it, to indicate which direction you will be heading in, is dying.
Think how much a manufacturer could save by not fitting a stalk inside the cabin, no flashing light on the dashboard, no little speaker making that tick-tock noise, no front and rear, and sometimes side lenses and fewer lightbulbs.
They could, I suppose, for some people who realise that indicating before moving a couple a tonne or so metal across lanes is a good idea, or letting other drivers know if they're turning left or right, make indicators an optional extra.
Even then I'm not too sure they would be used correctly. You see, using your indicators can be a good thing If you signal well before changing direction - save your vehicle from being thundered into by someone else. Note two things. First, there is no point turning on your indicator halfway through the turn as an afterthought, because by then it's too late.
Those who don't know their left from their right should not be driving at all. For drivers who haven't quite worked it out yet, if you indicate to turn left there is no point turning your right indicator on.
When you have indicated and then pulled out into, say, the middle lane of the motorway, please turn the bloody thing off again.
Other drivers are too scared to pass you with your winking tail-light because they think you may suddenly decide to pop across another lane.
Just because you engage your indicator doesn't mean you can just pop out into the next lane, which happens to have another car right there.
This happened to me a while ago. I was driving up State Highway 1, north of Auckland, in the outside lane.
As I drew alongside a large 4x4 the driver looked directly at me, flicked on his indicator to pass the car in front of him and started to move into my lane. I had cars in front of me, and behind so was boxed in.
He didn't care and just kept on coming.
Luckily, my hanging off the horn convinced him to pull back.
What's the use of indicators if they're used just as an afterthought?