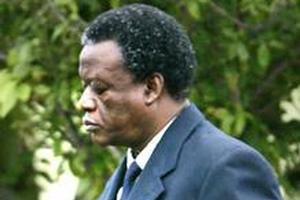 A 10-year-old Christchurch girl was murdered after a vicious sexual attack by her uncle, the Crown alleged in court today.
But the defence of Zimbabwean immigrant George Gwaze claim his niece Charlene Makaza was "riddled'' with an HIV virus she had carried since birth, and that was what killed her.
Gwaze went on trial at the High Court in Christchurch today.
He is accused of two counts of sexually assaulting the young girl before murdering her in the family's Bryndwr home in January 2007.
The 60-year-old, wearing a black suit and tie, slowly and deliberately replied "not guilty'' when read the charges.
During her preliminary remarks Justice Christine French that Gwaze had already been tried on the charges.
But she warned the fact it was a retrial was "completely irrelevant'' and told them to focus on "evidence heard in this courtroom alone''.
Justice Christine French warned the jury of seven men and five women that some evidence could be "very distressing''.
In his opening address, Crown prosecutor Brent Stanaway described the case as an "illogical and inexplicable crime''.
But he told jurors it was impossible to apply logic to try to understand what had happened, adding that Gwaze had run a high risk of detection or interruption.
He ran through the events leading to the girl's death, which the Crown claims came after she was raped before being smothered by a pillow or hand.
Mr Stanaway said Gwaze's wife, Sifiso, found Charlene unresponsive in her bed at 5.45am on January 6, 2007.
She was taken by the family to a 24-hour medical centre in Christchurch, before being rushed to the city's public hospital where she died the next day.
He said the Crown believed it was "beyond reasonable doubt'' that Gwaze was responsible.
The trial is set down for four weeks and is expected to call more than 90 witnesses, including many medical and specialist experts. However, Mr Stanaway said: "This is not a trial by experts - this is a trial by jury.''
Defence counsel Jonathan Eaton said his client - a qualified veterinarian who emigrated from Zimbabwe with his family to escape the Mugabe regime - had not killed or sexually assaulted Charlene, in fact he "loved her.''
"For all intensive purposes, she was his daughter,'' Mr Eaton said.
"On so many levels the Crown has got this case wrong - so terribly wrong.''
He said HIV was "rife'' throughout the girl's body, there were no "telltale signs of asphyxia'' and the Crown were pursuing "a flawed premise.''
The trial continues.
- APNZ