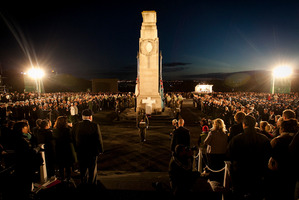 New Zealanders have been quick to put down deposits of $500 to $1000 for tours to Gallipoli to mark the 100th Anzac Day in April 2015.
The commemorations of the landing by New Zealand and Australian forces against Turkish defenders are a popular attraction and organisers of the centenary event are working on a plan to cope with demand.
Travel companies report strong demand by New Zealanders keen for the experience of awaiting the dawn service in sleeping bags with a boxed breakfast - ahead of a long walk.
"We have worked on preparations for a number of years thinking the 100th is going to be big," said Peter Fleming, of The Tour Company, in Auckland.
"I think space will be limited at the ceremonies because a lot of Kiwis will love to be there."
He said the company aimed to take no more than 45 New Zealanders in two groups on land-based tours.
However, it was also offering berths in a chartered cruise ship, which will anchor off Gallipoli after tracing the route taken by Anzac forces from Fremantle, Australia.
Hamilton resident Alison Murray and five friends are booked for the 40 places on a tour by Christchurch-based Innovative Travel Company.
"I'm pleased we booked early to get our places because it's going to be fairly special," said the 58-year-old retired farmer, whose father and father-in-law fought in World War II.
"We will be there to honour and respect our forbears and stand in the place where the Anzacs fought 100 years to the day and imagine how difficult it must have been."
Innovative's managing director, Robyn Galloway, said she started getting inquiries two years ago.
Hotel rooms in the nearest hotel to the battlefields and Anzac Cove were secured a year ago.
In Palmerston North, Stephen Parsons of House of Travel said demand was high, with inquiries from more than 500 people.
"We are a third sold of the 300 places, which is great, and we anticipate being sold out by mid-2013."
Mr Parsons said four military historians would lead groups on the 100th commemoration tour of Gallipoli, including Professor Glyn Harper, who is general editor of the Centenary History of New Zealand and World War I.
Flight Centre New Zealand general manager Mike Friend said inquiries were mainly from people aged over 40.
"The centenary services are expected to draw the largest crowds ever seen at Gallipoli so people need to book early to secure their place for this unforgettable experience."
Some Anzac pilgrimage tours are advertised with conditional prices, ranging from $4400 each, leaving from Istanbul, to $9950 for 16 days leaving from New Zealand.
Robyn Galloway said prices of suppliers in Turkey were starting to rise, "as is normal anywhere there is a major event and limited accommodation".
"We see some tours are based on current prices but we are promoting our tours on a realistic estimate of a serious increase, instead of putting them up later."
Mr Parsons said his 30 years in the travel business gave him a good idea of how to project cost escalation and he was confident that people who booked early would not pay more.
Veterans Affairs Minister Nathan Guy said no decision had been made about how to cope with the expected huge interest by New Zealanders and Australians in the centenary.
"The reality is that Gallipoli is a national park on a narrow peninsula and the Anzac commemorative sites can hold a limited number of people," he said.
"We are working closely together with the Turkish and Australian Government on arrangements for Anzac Day 2015 in Gallipoli."