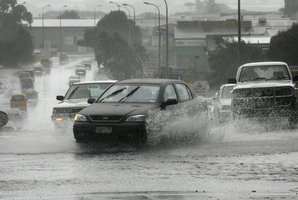 A large storm is due to hit the South Island and lower North Island today, bringing thunderstorms, heavy rain and potential squalls.
Severe weather warnings have been issued by Metservice, including heavy rain warnings for much of the West Coast with severe gales of speeds up to 130km an hour in Wairarapa, Wellington, Marlborough and Canterbury.
Forecasters are also warning of other severe weather with possible thunderstorms on the South Island's West Coast and west coast of the North Island overnight tonight and into tomorrow.
WeatherWatch head analyst Philip Duncan says the storm is showing up clearly on satellite imagery.
"This is a significant storm and while the centre of the low won't actually come near New Zealand it is large enough to push gales, heavy rain and potentially damaging squalls up the South Island and lower North Island today."
Mr Duncan predicts that wind speeds will be high enough to uproot trees, break branches, lift roofing iron and make driving extremely difficult.
Although the weather is typical for Autumn, it will contrast heavily with recent, settled conditions, he said.
"We'll have heavy snow for parts of the Southern Alps, squalls with thunder on the West Coast, heavy rain for the West Coast and gales for eastern areas of both islands, especially the lower North Island - that's the extreme weather for the next 24 hours."
Wind and showers are predicted for many areas on Monday, easing on Tuesday with another high expected mid way through next week, to last until Saturday.