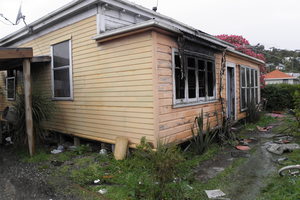 A 4-year-old boy with a fascination for fire, who burned down his home after playing with matches under his bed, says he wants to be a fireman when he grows up.
His mother, who cannot be named because of unrelated police matters, said she was on her way to work when her then partner called to say their Greymouth house was on fire.
"He ran out and said 'sore, sore, sore'. My ex was, like, 'just go back to bed', but he had a tantrum. He walked him to his bedroom and saw the house was on fire.
"It was in the front room so I went inside and tried to put water on it but it just ended up going up the curtains."
She said her five children were "freaked out" because windows smashed and flames billowed out of the house.
"We lost everything. What wasn't fire-damaged was smoke- or water-damaged."
Her son's fascination with flames had begun two weeks earlier during a camping trip to a local beach, she said.
"We went camping and had a bonfire and he got excited over the fire. He is delayed - he is 5 years old now but has the age of a 3-year-old, so he is not aware. You can tell him until he is blue in the face not to touch but he will."
Firefighters suggested her children participate in the fire awareness and intervention programme, which educates youth about the consequences of fire.
"They came to my new house and did a safety course with the kids which was great, and he wants to be a fireman now.
"They gave him his own special smoke alarm for his bedroom. He will never touch matches or lighters again."
Fire officer Greg Flaws said the house was sitting vacant while the landlord dealt with her insurance company.