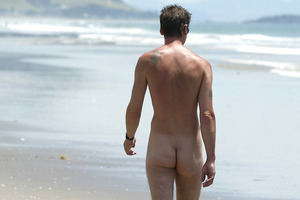 Stories making headlines in the provinces at midday include Papamoa locals plotting a lewd nudist fightback, a spate of collisions with buildings on the East Coast and there's some essential reading for those planning to fly to Queenstown.

Papamoa residents are fighting back against lewd nudists engaging in "homosexual activity in sand dunes and excessive exhibitionism" after a meeting last night, with suggestions they be photogaphed in the act and the pics sent to the police. Mayor Stuart Crosby said most people were not upset with nudists providing they were discreet.
Comments are raging about the nudists, with Ron betting if the nudie beaches were full of Playboy models nobody would complain, while "tgataxpayer" concludes from many of the comments that "there are a lot of stupid people in Tauranga."
In Whangarei, councillors have been spending ratepayers money debating a $5000 pay rise for the Mayor which they proposed to decline, but further debated a proposal to accept the pay rise if forced to by the Remuneration Authority. The debate continues.
Dame Kiri Te Kanawa told thousands gathered at the Rotorua Convention Centre yesterday about her variable experience of Australian hotels and her beloved puppy before launching into a set by JM Canteloube. Her dress however seemingly stole the show. "I want her dress!" said 16-year-old Olive, who is an aspiring singer.
Hawke's Bay people are learning drinking and driving into buildings can be very costly. One man ploughed across the median strip and hit the front of a B&B in Napier, before reversing, hitting a southbound car, spinning around and hitting a parked car, and then slamming back into the B&B a second time. This detail emerged in court.
Meanwhile, an elderly Gisborne woman was trapped in her bedroom when a car became airborne and crashed into her lounge. A neighbour who happened to be on his front lawn at 12:30am estimated the car was travelling at about 120kmh. The driver was passing a police car at the time. More detail is expected to emerge in court.
For military patriots, here's a video of the HMNZS Resolution leaving Gisborne Harbour to the tune of "God Defend New Zealand."
It is a huge weekend for petrol heads in Wairarapa.
Christchurch City leaders can see confidence returning to the quake-battered city, with only 600 people leaving the city last month compared with 1100 who fled the same time a year ago. In March 2010, before the quakes, about 500 Christchurch residents moved overseas, so things are apparently getting back to normal.
The "killer collie" blamed for attacking and killing family pets in Oamaru has been put down and the owner fined $300. However a street-savvy bull mastiff continues to give animal-control officers the slip.
Portobello police are a trifle mad after a dozen students got stranded on Pudding Island with a quantity of alcohol. The University of Otago proctor is to be informed.
If you are planning on flying to Queenstown then here's some essential reading.
Top trending topics on Twitter in New Zealand at midday are: A Picture Of Me When I Was, The Avengers, Reds, Google Drive, iPad, London, and iPhone.