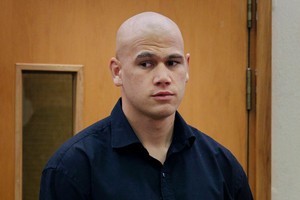 Cancer-stricken rugby player Kurtis Haiu has appeared in court on a drink driving charge and is alleged to have been one and-a-half times over the limit.
Police allege that the former Blues player was driving while drunk on Auckland's Albert St.
According to the police charge sheets in court, Haiu's breath alcohol reading was 625micrograms per litre of breath. The legal limit for an adult is 400mcg.
The incident is alleged to have happened earlier this month on the weekend that his former team lost against the Melbourne Rebels 34-23.
Haiu's manager Bruce Sharrock confirmed the brief court appearance but said he would not be making any comment about the matter while it is before the courts.
When asked about Haiu's health, Mr Sharrock said the cancer had no relevance to the charge.
Haiu is due back in court next month.
The 27-year-old was discharged without conviction at the Pukekohe District Court in August last year after pleading guilty to assaulting property developer Glenn Cooper.
The court heard how Haiu went to Cooper's property in May and punched the property developer twice in the face.
He pleaded guilty to common assault and possession of an offensive weapon, a hammer.
Police withdrew a third charge of assaulting Cooper's partner, Kirsten St George.
Judge Gerard Winter ruled that Haiu's criminal record would remain clean so he could continue his battle with cancer, work overseas and support his wife and two children.
He said the Blues player was a role model to many, the attack was provoked by Cooper's actions and Haiu had accepted responsibility for his assault.
Haiu's lawyer, Richard Earwaker, earlier told the court there were several reasons behind the attack.
Haiu had lost $400,000 to $500,000 to Cooper after investing in unsuccessful property deals.
The rugby star has played 72 games for Auckland and 53 games for the Blues but has been on indefinite leave from rugby after being diagnosed with Ewings sarcoma, an unusual tumour, on a rib.
The cancer diagnosis caused Haiu to lose a contract to play rugby in Japan, putting further financial pressure on his family.

- APNZ