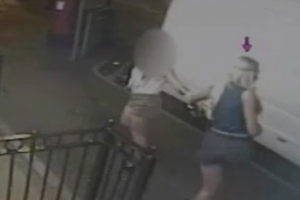 The best friend of Auckland student Emily Longley, allegedly murdered by her rich British boyfriend yesterday told a court he was "obsessed" with the teenager.
Wealthy jeweller's son Elliot Turner, 20, would upset the 17-year-old aspiring model Emily Longley, 17, by turning up uninvited when she went clubbing with friends.
He is alleged to have strangled Emily in a jealous rage at his parents' home before they helped him cover up the murder.
She was found dead in Turner's bed at the house in Bournemouth, Dorset.
Jurors at Winchester Crown Court have been told Turner was jealous and possessive and killed Emily during a drunken argument.
"HE WAS OBSESSED WITH EMILY"
Late last night [NZ time], Emily's closest friend, Carla Simons, 18, told the jury: "Elliot was obsessed with Emily.
He spoke about her a lot and rang her a lot, too.
"I do not feel she cared about him as much as he did about her.
"I do not feel it was a balanced relationship."
Part of her police statement was also read in court.
In it, she said: "I thought Elliot Turner really liked Emily.
"I thought it was sweet he liked her so much, though I did get the impression it was quite one-sided in the way that she did not talk about him as much as he did about her.
"On girly weekends out, Elliot would turn up uninvited.
"He would find out where we were going and then turn up. Emily did not like this."
Jurors have been told Turner had become increasingly suspicious Emily had been having affairs during their four month relationship.
FOOTAGE RELEASED OF EMILY'S LAST NIGHT OUT
Earlier, the court was shown video images of Emily's last night out.
CCTV footage showed her arriving at a cafe, having chosen to go without Turner after an argument.
Prosecution witness Oliver George, 18, a mutual friend, said Turner had criticised Emily, saying she was dressed inappropriately and would attract other boys.
She told him she would wear what she wanted.
The footage then showed Turner arriving at the venue later that night. and when Emily left shortly after, Turner tried to follow her.
Mr George told the court Turner was shouting "she's ruined my life, she's twisted my heart".
The court heard Turner later threatened to kill the blonde teenager with a hammer and boasted to her, "I will go to prison for it and still be a millionaire when I come out".
ARGUMENT WITNESSED ON THE NIGHT SHE DIED
The court heard that on the night of Emily's death, Turner had pushed her in the chest during an argument in a bar in front of friends.
A 17-year-old friend who was out with them that night, told the jury: "The argument was about Elliot Turner looking through Emily's phone.
"After the argument he pushed her back and she stumbled.
"She shouted at him but she seemed quite calm and did not seem perturbed by what had happened.
"She was OK really, she had quite a strong personality and she did not seem too affected."
The group were at the Cafe Shore restaurant and bar in the exclusive Sandbanks area of Poole, Dorset.
EMILY A 'BEAUTIFUL' PERSON 'LOOKING FOR A GOOD TIME'
Meanwhile, another friend who was also out that night, Georgina Mackenzie-Smith, also 18, described Emily as a 'beautiful' person.
Reading from her police statement, she said: "Emily was beautiful and was always looking for a good time.
"She could be quite naughty in a cheeky way and could also be very generous. She was high spirited.
Pathologists who examined Emily's body have testified they found injuries on Emily's body consistent with asphyxiation.
Turner had scratches on his arm and Emily had his DNA under her fingertips.
After the murder, Turner is said to have written a letter of confession which was ruined with bleach by his father, Leigh Turner, 54, to "destroy vital evidence".
The court was told that after the death, Turner's mother, Anita, 51, removed from the house a coat her son had worn on the night of Emily's death.
Turner denies murder and perverting the course of justice. His parents both deny perverting the course of justice.