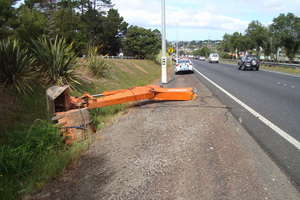 Traffic was disrupted for several hours yesterday after a crane carried by truck hit a bridge over the Northwestern Motorway.
The motorway's citybound lanes were closed for 2 hours north of Lincoln Rd from about 12pm, as was the damaged Royal Rd bridge, causing serious disruption to local traffic as well.
Although the Transport Agency reopened the bridge after being assured by a preliminary inspection that it would be safe, a 30km/h speed restriction will remain pending a more detailed assessment.
Traffic operations manager Kathryn Musgrave said the agency was relieved to have been able to reopen the bridge and motorway in time for the evening travel peak, and grateful for the co-operation of drivers during the closure.
The bridge is 4.8m above the motorway, compared with a maximum legal height limit of 4.25m for road traffic.
Serious damage caused to two other Auckland motorway bridges several years ago prompted what was until yesterday seen as a successful publicity campaign to increase the awareness of truck drivers about the height of their loads.
Demolition of the former Onewa Rd on-ramp bridge over the Northern Motorway was hastened in 2008 after it was hit by a truck-mounted digger. The year after, the Orams Rd bridge over the Southern Motorway in Manukau was closed for about six weeks for repairs from a similar digger strike.
Waitemata road policing manager Superintendent John Kelly said the significant disruption caused to traffic would be considered in any decision whether to prosecute the truck driver responsible for yesterday's collision.
The stakes for over-height traffic will become even greater once Auckland's rail network is electrified next year. Although there will be 5m clearances of powerlines above 20 level-crossings, KiwiRail says a reduced height of 4.25m will be unavoidable at 11 others.
It is therefore building physical barriers in front of the crossings which over-height trucks will strike before running into powerlines.