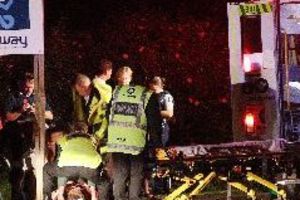 Two pedestrians yesterday became the second and third victims to be struck down in three days by motorists on Hawke's Bay roads.
In the first of the Anzac Day incidents, an 84-year-old female received head injuries and pelvic fractures after being hit on a pedestrian crossing in Tamatea.
The Napier pensioner was struck by a Nissan Terrano 4WD while crossing on Coventry Avenue, near Pak'nSave supermarket, about 1.35pm.
She was seen by St John Ambulance and taken to Hawke's Bay Hospital where she is listed as serious but stable in the high-dependency unit.
Constable Bryan Farquharson said speed was not a factor. She was "well on to the crossing" when knocked over, he said.
"We're still investigating but it looks like perhaps the driver's attention wasn't where it should have been," Mr Farquharson said.
"We're all human and most of us are guilty of occasionally losing concentration while driving. But maybe we need to re-focus and concentrate not just on looking for vehicles, but pedestrians as well."
The driver, believed to be in his 40s, was "terribly upset".
"No driver sets out to knock anyone over. It's very unsettling when it happens right in front of you. It's very raw and real."
Five hours later, emergency services were again called after an 18-year-old Havelock North male was hit by a car outside his parents' home on Havelock Rd.
"I don't know how it happened. I was only doing 60km/h - he just ran out of nowhere," the sobbing 23-year-old Hastings driver said at the scene.
The teenager, who had reportedly been drinking, received moderate facial, arm and abdomen injuries.
A following motorist said the victim had been running when he was struck.
Neighbours reported hearing "a very loud bang" on the road, which had a 70km/h limit.
"It looks like he has been very lucky after doing something very silly," his father told Hawke's Bay Today.
"It appears his head hasn't hit the road at all, but he had a piece taken out near his elbow."
His condition last night was unavailable.
The two incidents came just two days after an 87-year-old woman was struck by a ute on Taradale Rd.
It's understood the Napier pensioner stepped out in front of the vehicle about 11.55am on Monday after crossing the road's median strip.
She received serious head injuries and leg fractures and remains at Hawke's Bay Hospital in a serious but stable condition.
For more articles from this region, go to Hawkes Bay Today