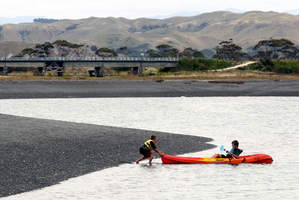 Police, a Coastguard crew, firefighters and a rescue helicopter combined to lift two missing kayakers to safety on the Whangaroa coast.
And, in a separate incident at the same time, a rescue team saved three people trapped by the tide at Wellington's Bay, near Tutukaka.
Northland police search and rescue co-ordinator Senior Sergeant Cliff Metcalfe said yesterday that the kayakers had been reported missing off the peninsula between Mahinepua Bay and East Bay, south of Tauranga Bay, after dark on Tuesday.
Both kayakers are men aged about 27, from Auckland. One of them paddled out from East Bay in the afternoon and the other went looking for him when he didn't return.
A Whangaroa Coastguard inflatable craft was guided towards a red light on the peninsula which
was from a fire the missing pair had made on a beach where they had landed.
Mr Metcalfe said the kayakers could not paddle back due to a big swell and easterly wind while they were at the base of a steep cliff which they could not scale and which rescuers could not climb down in the dark.
Conditions prevented the Coastguard boat getting in close enough for the two men to paddle out to it, so the Northland Electricity rescue helicopter from Whangarei was called in.
The pair were winched up to the helicopter about 9pm and taken to the firefighters, who had set up a landing site on the hill.
Kaeo chief fire officer Lindsay Murray said the men, who were both wearing lifejackets, were a bit embarrassed by all the attention, but otherwise "fighting fit".
Meanwhile, Mr Metcalfe said that while this was going on, the police search and rescue squad was called to help people trapped on rocks at Wellington's Bay.
Three men and a woman, understood to be in their 20s and from Whangarei, had walked around rocks towards Ngunguru to go fishing. They had "no idea about tides or the weather" and were stuck on the rocks by the high tide about 9.35pm.
The police search and rescue squad arrived about 10.30pm to find one man had swum ashore. As the tide was receding, the trio were then escorted back to the "mainland". He said they were all well, although the woman had a minor injury from a fall.
For more articles from this region, go to Northern Advocate