Anyone who has any information should contact the Papakura police on (09) 295-0222
.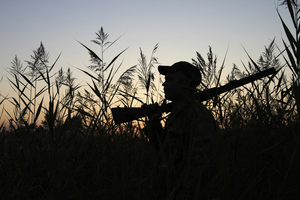 A hunter lurking on private land near Papakura has been firing shots at other hunters, believing they are deer - and police fear it's only a matter of time before someone is killed.
In one case, a hunter who had permission to be in the area was shot at after he mimicked the mating-season "roar" of a stag. A series of shots were fired, and one bullet hit trees close to an occupied house.
The incidents happened on private conservation land behind Winstone's Quarry bordering Middleton Rd.
Locals believe the shooter is also illegally targeting wood pigeons, which are protected.
Sergeant Shane Fogarty, of Papakura police, said residents were "very concerned about the danger they face" from the "irresponsible shooter".
"Police will be closely monitoring the area, because if this carries on, somebody could be injured or in the worse-case scenario killed."
During the weekend of April 7 and 8, a hunter with permission to be in the area let out a deer roar, and a shot was fired in his direction from a ridge across the valley.
The next serious incident occurred on the afternoon of Thursday, April 10, when five shots were fired with what was believed to be a rifle, possibly fitted with a noise-suppressor.
One bullet from the volley ricocheted and landed in pine trees close to an occupied house.
A Middleton Rd resident said they had heard many shots recently, especially at weekends.
"We live down a right-of-way with several houses off it so we get a lot of people coming down here and you just don't know who they are."
The police warnings follow the death of Aucklander Cam McDonald, 29, who was killed in the Aorangi Forest Park, in south Wairarapa, on April 17.
Four Wellington hunters have been questioned by police in relation to the shooting. It's believed a member of the Wellington Deerstalkers Association is one of the four.
Police believe one of the four men fired the shot that fatally injured Mr McDonald.
Anybody convicted of operating a firearm with reckless disregard for the safety of others faces a penalty of up to three years in jail, a fine of up to $4000 or both.