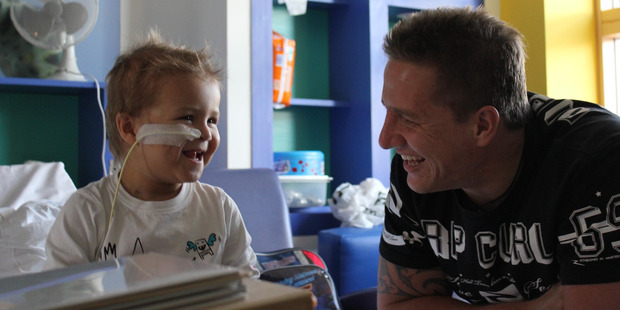 Chace Topperwien has suffered such a dramatic increase in pain that his father Ryan (pictured) and mother Keri have decided to bring him home to New Zealand. Photo / Supplied
Ryan and Keri Topperwien have made the heartbreaking decision to bring their little boy home from London, cutting short the expensive drug trial they hoped would save his life.
Three-year-old Chace has been battling a rare and aggressive form of leukaemia for more than a year and last month his parents flew to England to get him into the promising trial they prayed would keep him alive long enough for a second bone marrow transplant.
But this week, Chace's pain increased so dramatically that his pain medication was quadrupled, and doctors told the Hamilton couple the cancer was progressing.
Mr Topperwien said doctors recommended the couple bring their son home during a window of opportunity, before the acute myeloid leukaemia leaves him too sick to make the 24-hour flight.
"His pain has escalated quite a lot over the last four days," Mr Topperwien said. "It looks like the disease is progressing faster than we were hoping."
He said it would be at least a month before they knew the results of the first 72-hour infusion of the drug Chace received last week.
By then it could be too late to bring the boy back to New Zealand.
"He might not even last a month. We just don't want to get stuck over here."
However, the couple remained hopeful that the drug, which inhibits the growth of cancer cells, could still work a miracle.
"Our goal at the moment is just to get home and if we're allowed we're going to carry on doing the blood tests they need for the drug trial."
If Chace reaches the targets set by the trial doctors, including that his bone marrow gets down to 25 per cent leukaemic from the 90 per cent it is now, then the Topperwiens plan to fly back to continue the trial.
"If we're allowed. That's what our goal is. They [doctors] said it's not very likely but we can only ask."
However, yesterday the family were still trying to get permission from the airline to make the flight home after their British doctor suggested Chace would need oxygen to travel, despite the fact that he had not needed it at any of stage of his illness.
Mr Topperwien was still up after midnight (UK time) trying to sort the situation out so they could get on an afternoon flight today.
The couple and Chace would fly home with Mr Topperwien's father, Rod, who had been visiting the family.
Meanwhile, fundraising to help the family pay for the trial, which could cost $440,000 if all four rounds of the drug are used, continues despite the setback.
Last month, wealthy expatriates Eric Watson and Owen Glenn donated $25,000 each to the cause and urged other well-off members of New Zealand's business community to do the same.
This week, three of Mr Watson's colleagues donated a total of $10,000.
Mrs Topperwien said the support they had received from both New Zealand and London had been the extra momentum the family needed to get through the past month.
"We will carry our boy onto the plane knowing that we have tried our absolute best, that we were terrified of coming over here, but came anyway," she said.
"Chace has taught us many things, to never give up being at the top of the list. We haven't, and we never will."