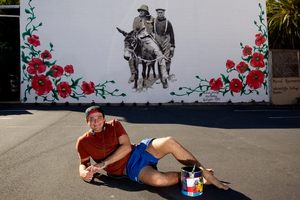 The image has long been shorthand for the bravery shown by the Anzac soldiers at Gallipoli.
And today, a large mural of Simpson and his donkey will be unveiled on the side of the East Coast Bays RSA in Auckland during the annual Anzac Day commemorations.
But artist Laken Whitecliffe says he purposely changed the face. "I made it more ambiguous - it's not really about the person, it's about all the people who risked their lives."
The 20-year-old said the project, which took him six full days to paint, was exciting because he had never attempted something on such a scale or with such historical significance.
"That was the other fun thing about this: I had all the veterans come up to me and give me history lessons about Simpson and his donkey.
"There's all this debate over whether this image is actually Simpson or not, but it was more about what the medical orderlies did.
"They went out on the frontlines, risking their lives to save other people with the use of the humble donkey.
"I know how much this means to the veterans, so I really did this for them," the artist said.
Whitecliffe landed the job after the RSA decided the wall was dull and boring. Member Tom Downey decided they should put a mural on it and approached the Whitecliffe College of Arts and Design.
Given that Whitecliffe's mother owns the school, she put his name forward.
"I jumped at that opportunity because my grandparents on both sides are returned servicemen," Whitecliffe said. "The least I could do for all the people who gave their lives and served for the country was to do a painting."