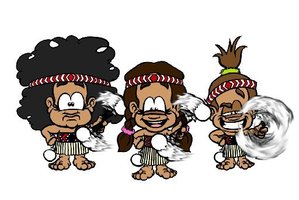 On the eve of Anzac day there are moving stories from around the region as relatives remember fallen heroes, two cyclists who got into a scuffle on the Ports Hills are making waves and a new cartoon aims to be a Maori version of the Simpsons,
It's a day that stirs the emotions for many New Zealanders, but the Anzac holiday period is particularly tough on Lance Corporal Sammie Tapara. Two years ago she lost her partner, 21-year-old Private Te Tahuna Daniel Tahapeehi, when he was killed in a traffic accident the day after Anzac Day. This year has again brought tragedy after Tahapeehi's pet labrador was hit by a speeding car.
For Oamaru woman Joyce Johnston, the planting of a memorial oak and the placing of a cross at Bortons, on the Georgetown to Kurow Rd, is the culmination of honouring Private Peter Fridd , a relative who was killed in action on September 21, 1916, at the Somme.
Private Fridd was 32 years old at the time of his death and is buried in a cemetery at Caterpillar Valley in France.

Wearing a relative's medals on Anzac Day is being encouraged but only if done properly, says the Masterton Returned Services Association and New Zealand Defence Force.
The Order of Wear allows family members of deceased loved ones to wear medals awarded to them on the right side of their chest on national days of memorial.
Hastings man Paul Hawke remembers being treated "like a prisoner of war" during the hasty allied evacuation of Vietnam 37 years ago. He was one of the last New Zealanders to flee during Operation Frequent Wind which involved the evacuation of American civilians and at-risk Vietnamese via helicopter to American ships at sea.
In Christchurch two cyclists have appeared in court after one allegedly assaulted the other in a case of 'bike rage' on a cycle track in the Port Hills. The incident was captured on video on a helmet camera sparking debate over who was actually in the wrong.
A new cartoon comedy, The Rangimoekaus, aims to show the lighter side of Maoridom. The cartoon animation is based in Taranaki and production will commence later this year. The film will be released in 2013 and premier in Taranaki at the Tropfest Film Festival. To sponsor and/or find out more about the project visit The Rangimoekaus Facebook page.

A poem penned by Whangarei writer and artist Leo Cappel will be representing New Zealand in an international compilation of poetry for children. The poem, titled Roseanna, was originally published in Mr Cappel's novel Clone. It's about a duckling that is afraid of water.
In Hamilton two young designers are using their ingenuity to break into the international fashion scene. Fashion label Jack and Flea has gained a steady following both overseas and at local boutiques.

Meanwhile the cost of a proposed art gallery in Wanganui keeps on rising. Originally estimated at $19.5 million, the proposed cost of the Sarjeant Gallery project has risen by $3 million - before a dollar of funding has been secured.