Martine Rolls, online editor at the Bay of Plenty Times, will be filling in for Peter Fowler this week.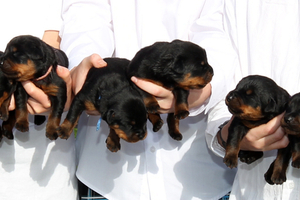 Stories that are making headlines in the regions today include a heated debate around the safety of certain dog breeds, major changes ahead for Wanganui Hospital's maternity services and accusations that a family of a sick child are using donations to splash out on expensive clothing and golf.
A light-hearted story about a Rottweiler dog giving birth to a massive litter of 16 puppies has readers hot under the collar, with debate focusing on how safe the breed is around children and whether dogs should be kept as pets in urban settings.
A fundraiser by a rest home in Burwood, north east of Christchurch, to raise money for child cancer has been ruined after the proceeds were stolen. The event, organised by caregiver Janet Fraser, raised $232 for Cancer Kids, who lost two of their buildings in the earthquakes.
However, things took an awful turn when Mrs Fraser's house was broken into last weekend and the money stolen.
Wanganui's fragile maternity services are on the verge of a major turnaround with confirmation the Whanganui District Health Board could have four obstetricians and gynaecologists (O&Gs) on its payroll in the next couple of months. Currently the maternity service is covered by just two permanent O&Gs and two locums.

In Rotorua, Daily Post photographers have been tracking the progress of the development of Lake Road and they have posted a compilation of images online to create a time-lapse. The road was reopened on Friday, and workers had 31 days while the road was closed to remove the old railway overbridge and prepare a new road surface.
The Northern Advocate has moved to morning delivery and is now being printed in a compact size. Their readers are commenting on the changes on Facebook and using @northernadvocat and #lovenorthland to tweet about it.

The parents of 19-month-old leukaemia sufferer Sativa Eagle from Tauranga are sickened by accusations they are claiming two benefits and spending donations on expensive clothing, golf clubs and tattoos. The accusations were posted on Sativa's Facebook support page. Sativa has not long returned to her Tauranga home after a three-month stay at Starship, where it was hoped she would have a bone marrow transplant.
Hamilton attracted more than 116,000 fans across the three days of this year's V8 Supercars event, but the round has been plagued by financial difficulties and declining attendance. Hamilton City Council last year agreed with V8 Supercars to terminate the hosting arrangement. With no agreement in place for a New Zealand round of the series beyond this year, this weekend's races were not only the last in Hamilton but, for now, also the last on this side of the Tasman.

It was a busy weekend for rescue services in Wairarapa with boaties in trouble at Castlepoint and hunters having to be airlifted to safety after getting stuck on a ridge in the Aorangi Forest Park.
The Oamaru St John Ambulance Association marked the 120th anniversary of the day it was founded in Oamaru. From humble beginnings providing ambulance services on wheeled stretchers, St John has grown to become one of the largest civilian service organisations in the country. Coincidentally, the anniversary celebrations coincided with local man Murray Jones' 43rd anniversary as secretary for the Oamaru branch.

Some of the top tweets in New Zealand this morning were #10FactsAboutMe, #MenIWantToCoverInChocolate, ANZAC and #AleagueGF