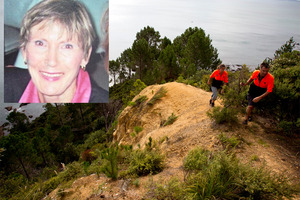 An elderly woman trapped down a cliff next to her wrecked car stopped herself from sliding further downwards by wrapping each leg around a tree.
Shirley Loft, 74, wedged herself between the branches in thick scrub and had only a cover from her golf bag to keep her dry and warm.
She was trapped on the sheer cliff for three days after accidentally putting her car into reverse and plunging nearly 300m down the steep bank on the Coromandel Peninsula.
Her brother Des Patterson told Radio New Zealand this morning she'd survived by eating leaves and berries.
As her neighbour Geoff Gillett and his workmate Valance McLaughlin searched for her yesterday, they were convinced they were on a body recovery mission. But after spotting her car bumper down the bank, they clambered down to be greeted by the words: "How the bloody hell did you find me?"
Auckland Westpac rescue helicopter advanced paramedic Chris Deacon said he joked with Mrs Loft as they were winched up the cliff to safety.
"I asked her if she was scared of heights and she said, 'Well, I've jumped out of an aeroplane before,' so I thought, 'Yeah, she will be good with heights,' but by all accounts I don't think she is that great [with them]. She looked a bit nervous."
Before she was winched up, Mrs Loft told him how she played a lot of sport when she was younger, so was quite fit and healthy.
While she waited to be rescued she reached into the car and got an old hat to help keep her head warm.
Mr Gillett had already been out with police in a helicopter to scour the coast and inland areas after Mrs Loft disappeared last Thursday morning while out for a drive.
He and Mr McLaughlin came up with a number of theories on where a vehicle could disappear to on the peninsula. One of their hunches proved right when they drove up Black Jack Rd between Kuaotunu and Otama Beach and stopped near the crest of the hill. "We saw tyre tracks going off the cliff and down the hill so we decided to follow them down," said Mr McLaughlin.
"A little way down I saw a bumper and pulled it out and said to Geoff, 'Is this bumper the same colour as her car?' and he said, 'Yep'."
The men and Mr Gillett's son Callum, 16, went further down through thick scrub. They saw Ms Loft's wine red Ford Taurus, which had crashed rear-first and vertically into a gully and was "completely smashed up".
"We were expecting to find a body so you can imagine our surprise when she heard us and she yelled out for help and it was like, 'Jesus, she's alive ... It's just unbelievable.'
"Her first words were, 'How the bloody hell did you find me?"'
Mr McLaughlin ran back up to the road to raise the alarm as Mr Gillett took off his jersey and shirt and wrapped them around Mrs Loft to keep her warm.
Mr Gillett said Mrs Loft had suffered just a few scrapes and bruises and was coherent but probably suffering from hypothermia when they got to her. There was a creek nearby but she already had a limp, a troubling hip and had skinned her legs badly crawling from the car and could not reach it.
He said what possibly saved her was a large wrap-around cover she had in her golf bag.
"She used that and she also wedged herself between a tree so if she fell asleep she wouldn't have slipped down the cliff, so she was completely with it."
Claire Elliott of the Kuaotunu Land Search and Rescue team was among a number of staff nearby who had been participating in a fund-raising run when they got the call after Mr McLaughlin flagged down one of their members from the top of the hill.
"I put her against my chest and she said, 'Oh, you're so warm.' I then gave her some peanuts and she just scoffed them, she was hungry," said Ms Elliott.
Mrs Loft was lifted from the area by helicopter and taken by ambulance to Thames Hospital shortly after.
Her brother Des says she'll be in hospital for a few days but her recovery is progressing well.