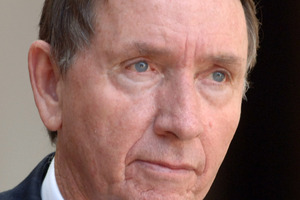 Barrister John Haigh, QC, tackled some of the country's biggest and most difficult cases and worked tirelessly for his clients.
Friends say he will remembered for those qualities, the standards he set and the close relationship he maintained with his family despite his heavy workload.
Mr Haigh, 65, died on Saturday after a brain haemorrhage. He is survived by his wife, Susan, and two adult children.
His most recent cases included work on the royal commission of inquiry into the Pike River mining disaster and the Ports of Auckland industrial stand-off.
Lawyer and former Attorney-General Paul East, QC, met Mr Haigh when they were studying law at Auckland University 47 years ago and they remained close friends.
"He was a person of great humility and generosity," Mr East said. "He gave himself selflessly to his clients and worked extremely hard."
Through his work - which included the acquittal he won for assistant police commissioner Clint Rickards, who faced sex charges - he had helped many people.
"And he set an example for all lawyers regarding the standards he maintained during his professional life."
Even more tragic was the loss for his family. "He had a very close relationship with them and was a loving husband and a father."
Auckland Crown Solicitor Simon Moore, SC, said Mr Haigh's death was an "enormous loss".
"John made me proud to be a lawyer. He really understood what the profession was about, what being a lawyer was. He was a stickler for standards but not in a pretentious way. He maintained standards by example and he was always very fair."
The Chief Justice, Dame Sian Elias, said Mr Haigh was a leader of the bar.
"He represented those charged with very serious offences but he was also a competent employment lawyer. Indeed, I think he was a very competent all-round lawyer."
She said he had a personality that would light up a room and was always someone who took great care when he was representing people. "He agonised, I know, about the cases he took on."
His father, Frank Haigh, was also a lawyer and social justice advocate who represented unions, including during the 1951 waterfront dispute.