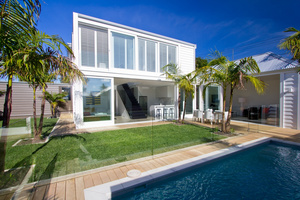 Developer Tyrone Le Roux says sometimes you need to take an old house back to go forward.
The renovation specialist owns two properties on a list of 73 in the former Auckland City's character suburbs granted consent to be demolished since 2007.
But instead of taking the wrecking ball to the houses at 61 Clarence St and 76 John St in Ponsonby, Mr Le Roux is making "contemporary" renovations involving a significant amount of demolition.
At the Clarence St house, this has meant a large rebuilding of the external features in a simple, but sympathetic, manner. The inside, however, is totally modern with new joinery, doors, a kitchen with walk-in butler's pantry and concrete floors.
Outside are a landscaped tropical garden, a swimming pool and water feature.
It is a different story at John St, where Mr Le Roux bought a small stucco-clad house.
He suspected it was originally a villa, and his hunch proved correct.
Working with heritage architects, he is rebuilding the house as a villa with garaging underneath.
"We have got to determine what the word demolition means," says Mr Le Roux.
Although he was required to seek a resource consent to demolish both buildings because more than a third of the properties would be lost, he said "sometimes you have to go back and change some of it to go forward".
Mr Le Roux, a South African who worked on residential and warehouse conversions in London before moving to New Zealand six years ago, said he was passionate about old houses and had never fully demolished one.
He acknowledges not everyone likes the work he does on properties such as Clarence St, but they do not understand his work.
"Some people see it [Clarence St] from the street and say I'm destroying heritage but I'm taking it back to what it originally looked like with slight tweaks."