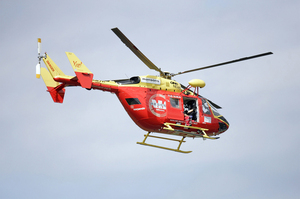 A missing 74-year-old woman has been rescued by helicopter after being trapped down a ravine for three full days.
Shirley Loft had not been seen since Thursday morning and fears for her safety had been mounting.
Ms Loft was found when neighbour Geoff Gillett and his Valance McLaughlin out searching for her spotted something "not quite right" on the edge of Black Jack Rd near Kuaotunu, north of Whitianga at 9am this morning.
They climbed down into the bush where they found a bumper about 50m from the road. They continued down the bank where they came across Ms Loft in a steep ravine 200m from where they had seen the scuff marks, said Constable Don Edgecombe of Whitianga Police.
The pair found Ms loft under a tree next to where her car had landed, having pulled herself from the wreckage. She had had no access to food but police believe she drank water from a nearby creek.
"While Mr McLaughlin climbed back up the 200m bank to raise the alarm Mr Gillett stayed with Shirley to comfort her and before long members of the Kuaotunu and Whitianga Volunteer Fire Brigades arrived along with local ambulance crews to begin the prolonged recovery effort," Mr Edgecombe said.
A Westpac helicopter then winched her to safety and she was flown to Thames Hospital with minor injuries to her legs.
Despite her ordeal, Ms Loft was in a "remarkably good condition physically", coherent and speaking to her rescuers, Mr Edgecombe said.
Whitianga police credit the "selfless efforts" of Ms Loft's neighbour and strong community spirit for this morning's rescue.
Auckland Westpac Rescue Helicopter paramedic Chris Deacon said Ms Loft "was in remarkably fine fettle for having no water and food for three days. All she really wanted was something to eat and drink."
When Ms Loft arrived at Thames Hospital, where she was now in stable condition, one of the nurses gave up her own lunch to ensure the 74-year-old had something nice to eat.
"She was obviously really hungry so that was nice,'' Mr Deacon said.
Police said Ms Loft's son David and brother Des thanked all the emergency services, friends and local community who helped in the search and rescue.
"But both they and police would like to reserve the greatest gratitude to the efforts to Mr Gillett and Mr McLaughlin, whose efforts in this case were definitely life-saving'', Mr Edgecombe said.
Ms Loft was last seen at 8am on Thursday morning when she told her brother she was intending on going for a practice drive to Coroglen.
- Herald Online, APNZ