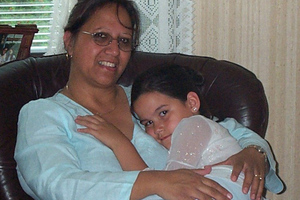 In an unopened file on Fran Ngahiwi Svebakk's computer is a diary she kept of the last time her eldest grandchild came to stay.
For Auckland's Svebakk, it's the last memory she has of her granddaughter Sharidyn Svebakk-Bohn who, at just 14, was the youngest of 77 victims killed when Anders Breivik went on a bombing and shooting rampage in Oslo and Utoya Island on July 22 last year.
"Together we wrote a day-by-day diary of her visit. I haven't been able to look at it again, it's still too painful."
As Breivik's trial began this week in Norway, Svebakk spoke for the first time about Sharidyn's idyllic childhood growing up between her two home countries - a young Maori girl who spoke fluent Norwegian. And she talked of the intense suffering her family has been through during the past nine months.
"The only thing about her that, thankfully, didn't change as she got older was that she loved to cuddle. I will miss that, and I miss her."
As they are half a world away from Norway, Sharidyn's large Kiwi family has been spared the intense media coverage.
Still, reports of Breivik's warped far-right beliefs and his Nazi salutes in Oslo's courtroom 250 have been inescapable. Breivik said he was saving Europe from an Islamic takeover. His only regret was that he didn't kill more.
Svebakk described the trial as an "awful process", one that would do nothing to ease the family's suffering. "No matter what the outcome, it will not bring my granddaughter back.
"It will not undo the enormous harm and loss of life; it won't fix the suffering and damaged lives of all those affected by one man's actions. And neither will it heal the pain of how and why my beautiful granddaughter was killed or ease the sadness of losing her."
Fran's daughter, Vanessa Svebakk, has sat through each day of the trial.
In an online post, she said: "Today we cried tears of pain for your precious life that was stolen from us while deep in our hearts we are overfilled with memories of our love that no man can steal from us."
Fran said she had taken the first flight to Norway after hearing that Sharidyn, who was attending a youth camp on Utoya island, was among the missing.
"When we left Auckland, the Norwegian police still had Sharidyn listed among those missing. It wasn't until we cleared Customs in Oslo and saw pictures of Sharidyn on the front pages of the newspapers that we got confirmation she had been killed. Until that moment we still held on to the hope she would be found alive."
Fran Svebakk married Norwegian Brynjulf Svebakk, and their families divided their time between the two countries ever since.
Sharidyn was born in Palmerston North in 1997 and returned regularly for holidays. She was of Ngai Tuhoe, Ngati Whatua Ngati Tuwharetoa and Ngati Kahungunu descent.
After the sudden death of her husband a few years ago, Fran moved back to New Zealand with her younger children. Vanessa, Sharidyn's mother, remained in Norway.
Fran's memories of Sharidyn are of an inquisitive little girl who loved to sing. She also loved to draw and make crafts, and for months after she returned to Norway, Svebakk would find pictures hidden away in her former Tauranga home.
"She also loved talking. When she was excited, the words just tumbled out of her mouth, but when she was in a mood, her lip would drop and she would fold her arms, but then in no time she was happy again."
Svebakk visited Sharidyn's grave a week after her funeral to place flowers.
"The flowers were yellow-orange dahlias. They stood out among all the red roses that covered her grave. I thought it was appropriate that they stood out, just like Sharidyn - a lovely Maori girl laid to rest among Norwegians she never knew."