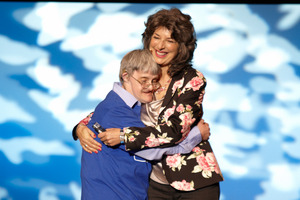 StarJam founder moving on after brother's death
Julie Bartlett's brother, Ross Moses, was the inspiration for StarJam, a charity which helps young people with disabilities take to the stage.
But for 17 years she didn't even know he existed.
Bartlett, who will step down as StarJam chief executive in November after 10 years at the helm, said Ross, who had Down syndrome, was sent to live in an institution as a baby.
But she became his biggest fan as his advocate and next of kin after their father died 20 years ago.
Sadly Ross died last Saturday, aged 53, after a short illness.
"If only I had half his patience, half his acceptance, half his unconditional love," Bartlett said. "He had all the qualities that I aspire to.
"He didn't exist in my life for the first 17 years, then when I met him I thought, 'How come he wasn't a member of my family'?"
But she didn't hold it against her parents, saying it was common at the time to put youngsters with disabilities in institutions.
"I just feel sad that I didn't have the opportunity to grow up with him," she said.
Bartlett, 60, launched StarJam to give young people a spot in the limelight after seeing the effect such a moment had on Ross. He stood up at her wedding to husband Roy and gave a spontaneous speech that moved the guests to tears.
"His language was unintelligible to those who didn't know him but it was very clear that he was giving a speech about his love for me. It was so moving," she said.
"Here was somebody considered a nobody, and he was making the biggest impact on our wedding."
Afterwards people looked at him differently. "He became somebody to admire."
StarJam had a similar effect on young performers she said: "Their confidence goes through the roof."
Over the past decade more than 600 performers aged between 6 and 25 have been involved, and 200 are currently taking part.
Current "Jam-bassadors" include Dominic Bowden, Olivia Shivas, Ben Lummis, Simon Dallow, John Hawkesby, Jono Heaps and Greg Murphy.
There was a long waiting list for weekly programmes such as "groovy guitar", "jazzy jamming" and "sensational singing", which helped StarJammers in Auckland, Hamilton and Wellington prepare for their November productions, directed by Bartlett. Over the years Bartlett and her husband, who was a StarJam volunteer, have raised $3 million for the organisation which has eight fulltime staff, 26 tutors and 60 volunteers.
"It's amazing, but I think the organisation needs to be able to thrive without the founders.
"We intend to start in Christchurch this year. I would like to lead the next phase of international development."
StarJam will seek a new CEO, and next year Bartlett will become the chairwoman of its board of trustees.