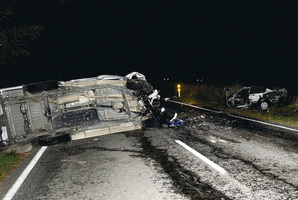 Two women died and a 46-year-old man is in hospital after a car and utility collided on the main highway just north of Te Karaka, inland from Gisborne, late yesterday afternoon.
One of the first on the scene about 5.15pm said the car carrying the two women burst into flames after the impact.
"We all tried to pull the ladies to safety before the car was engulfed in flames.
"We could not find a pulse."
The woman said the male driver of the ute, which ended up on its side, was walking but looked very sore.
St John Ambulance said a man was taken to Gisborne Hospital, where this morning he was listed as having moderate injuries and was in a stable condition.
The accident closed part of State Highway 2 north of Te Karaka for more than four hours.
A diversion was put in place for one-way light traffic on a track by Paringahau Station. Trucks had to wait until the highway opened.
The station manager's wife, Donna Hargreaves, was working in a paddock nearby when the crash happened.
She saw smoke, heard voices and went up to the road where a woman was stopping traffic.
"There were already cars either side of the accident and she was asking for a fire extinguisher and an axe.
She asked if I lived nearby, and I said yes but it was on the other side of the crash."
Mrs Hargreaves was with her 6-year-old son and they went through a paddock on their quad bike, past the accident scene.
"I could see the car in flames - huge flames. The whole car was on fire and there was a lot of smoke."
Mrs Hargreaves grabbed an axe and fire extinguisher, and raced back to the road, where a man took them from her.
"It was only a few minutes later when the fire engine came, so they got there pretty quickly.
"But apparently it was too late.
"It was pretty bad, quite a shock. You just try to help but apart from getting the fire extinguisher, there wasn't a lot we could do really.
"For the car on fire it was too late and you don't have long when it's a flame like that."
Te Karaka chief fire officer Jamie Simpson was there within five minutes of the crash and arrived to find the ute on its side and the car just off the road and well ablaze.
"We extinguished the blaze in the car and gave first aid treatment to the driver of the ute.
"The people at the scene did an excellent job of offering first aid and helping out."
Mr Simpson said both women in the car died at the scene.
- Gisborne Herald