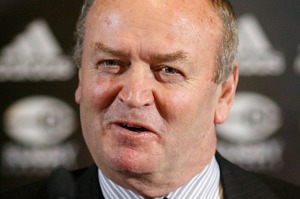 He has been touted as a potential saviour of English rugby, but World Cup-winning All Black coach Sir Graham Henry seems to have kicked that idea into touch.
At a fundraising dinner with All Black captain Richie McCaw, Henry, tongue firmly in cheek, responded to a glum England supporter seeking his wisdom by calling the English rugby team a "f***ing shambles" who should "self-destruct and start again".
In an evening littered with banter, a typically dry Sir Graham labelled the English as smarmy.
"They are the height of arrogance ... really up themselves," he told several hundred guests at Auckland's TelstraClear Pacific Events Centre.
"[Former England manager] Martin Johnson, well, he's a good guy, but he had a lot of pricks to deal with."
Reached yesterday, Sir Graham did not want to comment further, and said he did not want his Thursday night remarks reported.
Being experienced in speaking engagements, Sir Graham would expect that media "could be there and would be there", said event organiser David Higgins of Duco Events.
Having a dig at the English team is nothing new for the former All Black coach, who has previously stated publicly the English are the "world champions at wasting talent".
Sir Graham has been tipped as a potential English coach or adviser, with bookmakers at one point having him a 3/1 joint favourite to take over from Johnson after the World Cup.
Broadcaster John Campbell, who acted as MC at the fundraising event, told the Weekend Herald the "piss was taken quite often" during the evening. "This was an utterly good-natured teasing of an Englishman who has asked a question in the audience. It was entirely in the spirit of the evening," Campbell said."I really can't stress strongly enough that it wasn't intended to be taken seriously."
Mr Higgins expected between $100,000 and $170,000 would be raised from the event to go to two charities that support at-risk youth.