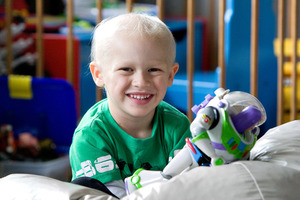 The kindness of strangers has overwhelmed Jo Josephs, whose 4-year-old son Cory is being treated for a form of testicular cancer.
On Boxing Day last year, Cory was playing at his Rotorua home with a pogo stick he got for Christmas when it hit him in the testicles.
Two days later his parents noticed a large swollen mass around one testicle and took him to the doctor.
Weeks later he was diagnosed with an embryonal rhabdomyosarcoma tumour - extremely rare in children - which was surgically removed on January 26.
The pogo stick knock is now viewed as a blessing in disguise, as it caused bleeding into the growth that enabled the cancer to be caught early.
Cory is nine weeks into a 24-week course of chemotherapy and his prognosis is good, although the treatment has taken its toll on him, physically and emotionally.
It's also been a rollercoaster few months for Mrs Josephs and husband Dave, who are still coming to grips with the fact that their previously "cheeky, easy-going" son has cancer.
"You don't think of a 4-year-old kid having testicular cancer," Mrs Josephs said. "I'm probably still in denial now."
On top of that is the financial stress. Mrs Josephs has had to give up her job to care for Cory and his 1-year-old brother Levi, leaving her self-employed husband as the sole earner.
Then there's the travel every third week to Auckland's Starship hospital for chemotherapy, the possibility of paying for future medication and unexpected costs such as educational aids - Cory turns 5 in July but it will be at least next year before he's able to attend school.
The Child Cancer Foundation supports the family with petrol vouchers when it can and Cory receives a sickness benefit of $44.55 a week, but no other financial assistance is available.
"You lose hope and think, 'what the hell has happened for a 4-year-old kid to get cancer?'," Mrs Josephs said.
You lose faith ... you're thinking, 'we have worked our butts off for years to support our kids and get a house over our heads to lose it'."
That's where people like Christina Humphries come in.
Ms Humphries heard about the Josephs' situation through her mother, who taught Cory at daycare.
"It made me want to do something to help. I have small children including a 4-year-old son so I think this hit a nerve," she said.
She and other willing helpers have got local businesses involved in a family fundraising event at Westbrook Primary School on April 28. All proceeds will go into a trust fund set up for Cory.
The Josephs have always supported their community and donated to charities, but never thought they would one day need help themselves.
"My husband is a proud man," Mrs Josephs said. "At first he said, 'no, we're not having fundraising'."
But she and her husband have been "blown away" by the support.
It will be five years before Cory gets the all-clear, and when that happens his mum plans to repay the kindness they have received by campaigning for more financial assistance for families struggling with serious illness.
How to help
Anyone wishing to make a donation to Cory's trust fund can contact Christina Humphries on 021 408 436