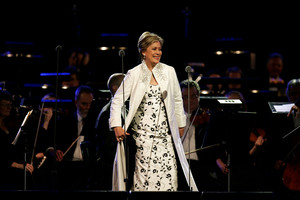 A 12-year-old boy suffered serious facial injuries when he was bitten by a dog near Turangi. The boy was treated at the scene and taken to Taupo Hospital by St John Ambulance, then flown to Waikato Hospital. Hospital spokeswoman Mary Anne Gill said the boy was due to have surgery last night.
Wellington-based architect Ashley Cox, who grew up in Hawke's Bay, is today revelling in the pride of winning a New Zealand Architecture Award for the design of an inspirational studio for Napier artist Martin Popplewell. Mr Cox has been involved in other sites in Hawke's Bay, and previous awards have been mainly regional and mainly while working for other people.
Waiariki Institute of Technology and The Daily Post are offering two members of the public the opportunity to attend next week's sold out Dame Kiri Te Kanawa Sings In Rotorua event.
The April 26 black tie dinner and show extravaganza is Dame Kiri's only New Zealand outing in 2012 and promises to be the highlight of the entertainment year in the Rotorua region.
Meanwhile in Waihi Beach, wild weather and high king tides sparked concerns from beachfront property owners. The District Council utilities manager has visited to assess and noted that the erosion had not, at this stage, affected any private properties. Nevertheless, a discussion has been triggered by community paper The Waihi Leader on their recently launched Facebook page.
In Tauranga, it is reported that several musicians who played in the cash-strapped 50th National Jazz Festival are outraged because they have been told they must wait at least another month for payment. While the council funded a substantial deposit for headline act Earth, Wind and Fire, it appeared many other acts had not received a cent. "It's bloody not on and it's not bloody good enough," said one of the affected musicians.
An hour-long power outage throughout the Wanganui CBD yesterday left cinema-goers stranded, shop staff unable to work, and one radio personality scrambling to get money from a cash machine. A lone magpie was the cause of the outage that affected 6000 properties. The bird had been sitting on a guide wire when it somehow touched two wires at the same time.
It is also reported that Wanganui's busiest stretch of road - the portion of London St that is part of SH3 - caters for fewer than 10 per cent of the 154,000 vehicles which cross Auckland Harbour Bridge each day so there is no need to be worried about getting jammed in traffic.
The boots and vehicles of an invading army of seasonal workers could threaten Northland's $36 million kiwifruit industry. The region has been in lock-down for several months to try to keep out the kiwifruit vine disease PSA, which last year caused losses in other parts of the country estimated at up to 15 million trays.
Meanwhile, an Oamaru teenager is on a mission. Seeing smashed glass and empty alcohol vessels strewn all over the street is a common sight at the weekend and one young man says that he's had enough. The Acting Sergeant of Police who has worked in Oamaru for 14 years claims it was worse in Invercargill, where he was previously stationed. Apparently, there is a big drinking culture down south, but in Oamaru people tend to drink responsibly.
Some of New Zealand's top Tweets this morning were #WhatNotToSayToThePolice, NZ Olympic, #AlmightyJohnsons, Dick Clark, #YouGetMajorPointsIf, Lux and #recordthatchangedmylife.