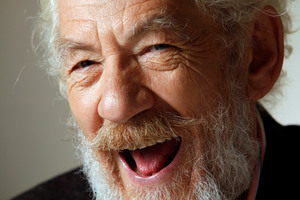 A who's who of sporting champions, actors, politicians and diplomats gathered at the British High Commission in Wellington today for a street party marking 100 days until the Olympic Games kick off in London.
Among those at the ceremony was British actor Sir Ian McKellen, Olympic gold medallists Sir John Walker and Sarah Ulmer, British-born Wellington Phoenix footballers Paul Ifill and Chris Greenacre, Cabinet Minister Chris Tremain and Labour's leader and deputy leader David Shearer and Grant Robertson.
The party began with a 200m race from Parliament to the High Commission.
Mr Shearer managed the bronze medal after being beaten by two local boys, while Wellington Mayor Celia Wade-Brown, wearing heels, was among the last to cross the string of British flags at the finish line.
Announcing Mr Shearer as the third-place winner, British High Commissioner Vicki Treadell noted that she was sure the opposition leader "doesn't want to be third place all the time".
Sir John, who won gold in the 1500m at the 1976 Olympics in Montreal, presented the medals, saying he suspected Mr Shearer had been doing some "secret training".
About 140 British embassies and high commissions around the world will today host parties to mark the upcoming Games, and Ms Treadell said the Wellington event had set a high benchmark.
"London is going to put on an amazing show, and so is Great Britain," Ms Treadell said.
"I know we will do Britain proud just as New Zealand did last year with the Rugby World Cup, and I trust the British people will be as welcoming and warm as the Kiwis were when our home nations came here in that other great sporting event."
Sir Ian, who was among a group of Hobbit actors at today's event, offered his congratulations to the race participants, and said he was pleased to get behind another London Games.
"I must be one of the few people here who remember the 1948 Olympics, and a spirited affair it was too. I was up in the north of England and we didn't really know what was going on, it was before TV and everything," he said.
"But I hope to get back from Middle Earth this time to at least watch it on television in London this time."
Sir Ian said he was also excited to see the arts events that ran alongside the Olympics, including a Shakespeare festival at local theatres.
"So if any of you get over there, but can't get tickets to see the high jumper, you can always go and see Hamlet."
- APNZ