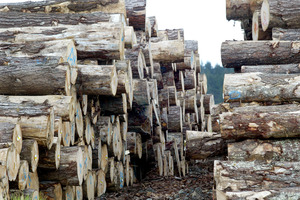 From the moment Scott William Paton offered to help a friend steal nine tonnes of native logs from Carter Holt Harvey Forestry in Rotorua, the foolhardy scheme was destined to fail.
A comedy of errors unfolded, which included burst tyres, spilled logs and a $60,000 borrowed skidder (used in a logging operation for pulling cut trees out of a forest) that got stuck in the mud.
Judge Ian Thomas sentenced 35-year-old Paton in Tauranga District Court yesterday after he pleaded guilty to charges of theft and unlawfully taking a motor vehicle, namely a $60,000 skidder, in 2005.
Judge Thomas said that from the summary of facts it looked like a "Keystone Kops series of events" had occurred that night.
The judge told Paton his plan to help out his firewood merchant friend had clearly been destined to fail from the start.
The court was told that about 5.30pm on July 18, 2005 Paton was working for a logging crew on site alone when his associate drove up in his truck and trailer.
Using a digger and loader, Paton loaded nine tonnes of native logs on to the trailer. However, because the load was far too heavy the draw bar was unable to take the weight and broke.
Paton later loaded the truck with a second load of native trees weighing six tonnes and his associate drove off but on the way the rear tyres burst from the weight, the vehicle overturned and the load spilled over the road.
The truck also suffered damage in the crash.
Paton then sourced a skidder from his work site and drove it back to the crash scene but because it was driven into a water-logged area it immediately sank due to its weight.
After pushing the native logs worth $974 to the side of the road, Paton then drove back to work to collect his work ute and drove away.
He resigned the next day after being questioned about the theft and had been sought by police since. Paton, who was finally located by police last month, was fined $1000 plus $275.78 court costs.
For more articles from this region, go to Bay of Plenty Times