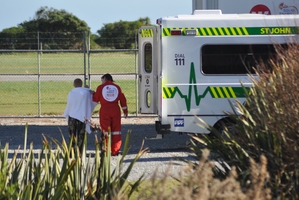 Police have paid tribute to the "courageous but tragic'' actions of an 11-year-old boy who ran 6km in the dark early this morning to raise the alarm, knowing that his father had been killed when their vehicle rolled north of Haast.
Haast ambulance, Fox Glacier firefighters and the Solid Energy Rescue Helicopter were called to the crash scene, on a straight section of State highway 6 north of the Haast River bridge, after the four-wheel drive Toyota Hilux crashed and rolled into a paddock.
The driver, 40-year-old Craig Bennett, who recently moved from Haast to Australia, was flung from the vehicle and was dead at the scene.
He and his son were back in Haast on holiday to pack the last of their belongings, and at the time of the 5.30am crash had just left Haast for Christchurch to catch a plane back to Australia.
They were only 10 minutes into their journey when the vehicle rolled.
Mr Bennett's son Hunter ran in socks back to the service station at Haast Junction to raise the alarm, running through a lonely section of highway surrounded on both sides by bush.
Helicopter pilot Angus Taylor, who later flew the boy back to Grey Base Hospital with a black eye and other minor injuries, described Hunter as "amazing''.
"He knew his dad had not made it. It's a tragedy.''
In Greymouth, the boy was released into the care of his grandfather, who is understood to be from Reefton.
The boy's mother had stayed in Australia but was now flying to the West Coast.
Mr Bennett had lived in Haast township for about five years and was well-loved in the local community. He worked for highway contractor Ferguson Brothers, and at one stage commuted during the week to work at the Stockton coal mine, near Westport.
West Coast police rural senior sergeant Tim Crawford said the vehicle had veered across the road when Mr Bennett over-corrected a steering error.
It ran off the road, through a fence and rolled in a paddock.
Mr Crawford said Hunter would also be interviewed in the coming day, so police could get a fuller picture of what happened, but he praised the "courageous but tragic'' actions of the son in showing such initiative raising the alarm.
Westland District Council Haast-based councillor Kerry Eggeling said the accident was distressing news for the tight-knit, remote community.
He said the community would pull together for moral support - "It always does with things like this.''
- APNZ