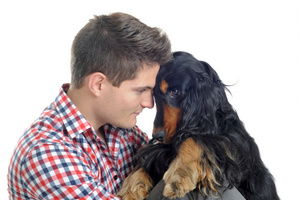 Feeling misunderstood?
Then some new University of Otago research the might just provide the answer... Get a dog.
Otago psychology PhD student Min Hooi Yong is experimenting with domestic dogs to establish if they understand human emotional cues.
While many dog lovers are adamant their four-legged friends understand them, "we just want to know if it's true," Ms Yong said.
Early results from studying about 100 dogs suggested they had some insight into human emotions, and could "differentiate between happy and angry verbal tones".
But the tests had not yet proved if dogs were also picking up on emotional cues from facial expressions.
Dunedin dog breeder Simon Monson is convinced dogs can "read" emotions in the faces of other dogs and humans, and also pick up on other behavioural indications of emotion.
He has bred labrador retrievers for the past five years and believed dogs responded to directions given to them via his facial expressions, as well as from hand gestures and could "read" emotions from his tone of voice.
Malaysia-born, Ms Yong is seeking a further 50 dogs for her continuing research, with owners also having to be present during the testing, at a university laboratory.
The research has brought her into daily contact with all kinds of canines great and small, ranging from the Chihuahua cross, at just over 20cm, to the more than a metre-high Scottish deerhound.
And she has found no association between the age, sex, or breed of the dog and its ability to respond to human emotions.
People often tell her she has scored "such a fun research project" and she agrees.
"Dogs are very astute observers. It's just fun to be with them."