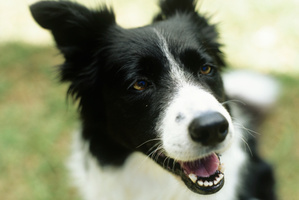 One of the dogs terrorising pets in Oamaru has been found and its owner faces a fine, and possibly having the animal put down.
Waitaki District Council animal control officers were called to the Awamoa area on Monday night by a woman who had spotted the unregistered black and white collie on the street, after following the story in the Oamaru Mail.
Waitaki District Council regulatory service manager Steven May said it was soon found by the animal control team and placed in the pound.
The Oamaru Mail knows of five guinea pigs and one rabbit that have been killed by the dogs, and two rabbits that escaped attacks.
After being approached by the collie's owner yesterday, Mr May said they learned the other dog involved, a bull mastiff, was not owned by, but associated with, the collie's owner.
The council hoped to find the bull mastiff overnight. Animal control would be on the lookout, Mr May said, and traps had been laid in the area where the owner lived and where the attacks had taken place.
When both the dogs had been found, the council would determine their fate.
"It depends on the response from the owners," he said.
"We'll look at what we do, whether that be putting them down, fining the owners, getting them to write letters of apology to the families whose pets were killed."
The owner had been taking care of the dogs, but was unaware they had been roaming at night.
Oamaru woman Tracey Taylor, whose family lost a pet rabbit in the recent maulings, said it was a relief one dog had been found.
"We can sleep easy at night knowing we can have the other rabbit in a cage outside at night and it will be safe," she said. "Hopefully the other will be found before long but it's certainly a relief they've found one, especially knowing how many animals were killed."