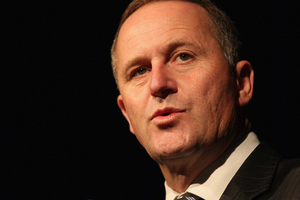 Prime Minister John Key's talks with Indonesian President Susilo Bambang Yudhoyono achieved everything Mr Key was hoping for on prickly trade issues and included "open and honest" discussions about human rights issues and the disputed Indonesian province of Papua.
In his first official visit to Mr Yudhoyono, the two leaders yesterday signed a series of agreements to increase co-operation in the areas of agriculture, environment, labour and geothermal energy.
They signed the agreements before a large local media contingent at the President's Istana Mederka official residence where Mr Key was earlier welcomed in grand style with a large honour guard and a 19-gun salute.
Asked by the Herald about barriers to New Zealand beef exports, Mr Yudhoyono said, through a translator, he was confident of a solution as had been reached over the issue of livestock imports from Australia recently.
"I have asked my Minister of Trade to discuss this with his counterpart so that he may overcome these challenges."
Later, Mr Key told reporters the beef issue wasn't specifically raised but he was heartened by Mr Yudhoyono's comments.
He was aware that some Indonesian businesses were breaching their Government's quota on New Zealand beef imports to meet demand, and the quota, plus the ban on livestock imports from Australia, was having an effect on prices.
"So I think if we handle the issue with a bit of delicacy we'll get through it over time."
During the meeting, Mr Key "reaffirmed the Government's long-standing position" to respect Indonesia's "territorial integrity" or rule over the area where it is alleged indigenous Papuans have been jailed or even killed for seeking self-rule.
Mr Yudhoyono thanked Mr Key for his reaffirmation and told him Indonesia's focus in the region had changed from one of security to development.
"He was very open and honest about the situation there. He acknowledged there's a range of views on the ground in Papua but in the end, like the rest of the people in Indonesia, they want to prosper and succeed and have a future they can believe in, and he is trying to actively work to see that development."
Mr Yudhoyono raised the issue of human rights himself, telling Mr Key that "where there were observed human rights abuses they would be challenged and brought to justice".
The President had suggested establishing a framework to measure progress in the relationship between the two countries.
Mr Key and his business delegation leave this morning for Singapore.
It was unlikely there would be any specific outcomes from his meeting with Prime Minister Lee Hsien Loong and President Tony Tan Keng Yam, but Mr Key said he was looking forward to general discussion of issues facing South East Asia.
Mr Key was visiting the city state at the request of Dr Tan, who may visit New Zealand shortly.