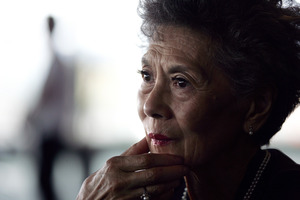 Proposed parole changes do not go far enough and the system needs to be abolished, the mother of murdered Auckland pizza delivery man Michael Choy says.
The Government today announced plans to amend the Parole Act to extend the period parole hearings can be postponed for, for people who are considered unlikely to be released.
Justice Minister Judith Collins said the legislation, which would be introduced this year, would provide some relief for victims of crime, who would not need to face the stress of parole hearings when an offender was clearly not safe to release into the community.
Mr Choy's mother, Rita Croskery, told APNZ the change was a step in the right direction but the law needed to go further.
"I want to see parole abolished. If they've got a sentence they should serve it fully and the victims shouldn't be penalised," she said.
"But it's good to see change, and that they're thinking about doing something about it, because prior to this it's been an offender-based system and victims were not taken into account at all."
Mr Choy was bashed to death with a baseball bat while delivering pizzas to a south Auckland house in 2001. Seven youngsters were later jailed for the killing - including Bailey Junior Kurariki, who, at 12, became New Zealand's youngest convicted killer.
Mrs Croskery has previously spoken out against the parole system, blaming the trauma of repeated hearings for her husband's heart attack earlier this year.
"It's a nightmare having to go to parole hearings all the time," she said today.
"You're thinking which one was this, and what did he do, and it just goes round and round in your mind. You go through the scenario of what happened and all the horrible details.
"No matter how much time passes you never forget, but to bring it right back to the fore of your mind - you can't get on with your life."
Sensible Sentencing Trust spokesman Garth McVicar agreed that the law could have gone further, but said he had heard from a number of victims who were with pleased with progress.
"From the time they get the letter from the Parole Board about three months beforehand, you can see the stress build up for these victims," he said.
"They feel that even though the Parole Board may be feeling that the person won't get parole, there's a risk so they feel obliged to go along."
Under the changes announced today, the maximum interval between parole hearings would be extended from one to two years, and the maximum postponement period for offenders serving preventive detention sentences and fixed sentences of 10 or more years would be extended from three to five years.
The changes are expected to save about $900,000 a year, and Ms Collins said they would also give greater flexibility for the board to set hearings around rehabilitation programme completion, and would provide incentives for prisoners to fix offending behaviour.
Labour has indicated it will support the legislation through its first reading, with justice spokesman Charles Chauvel also acknowledging the benefits for the families of victims.
"If you've got a case where it's obvious that a person isn't going to get parole, and nonetheless the law at the moment requires a hearing ... the more we can reduce those sort of situations the better."
Mr Chauvel said he would want to look at the assessment that was being proposed to screen prisoners for their probability of parole, and would need to be satisfied about that process.
There has been some concern raised about the move, and whether it could strip away the rights of prisoners.
Kim Workman, the director of the Rethinking Crime and Punishment lobby group, also questioned how the screenings would be done, and the appeal process that prisoners would have to challenge those decisions.
He disagreed that longer periods between chances at parole would provide an incentive for better behaviour, saying they were more likely to decrease an inmate's motivation to change.
"If your parole board hearing is a year away you're going to start looking at what you have to do to get out. If it's three years away it's too far away to be significant, and I think people are likely to give up hope."

- APNZ