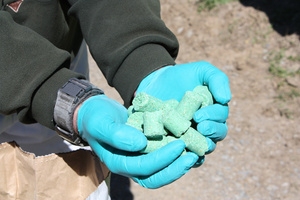 Anti-1080 groups say the Animal Health Board is not being up front about an advertised 1080 poison drop, referring to an area near Rimu as 'Pukaki', befuddling even the locals.
They have also promised more protest action when the poison drops start, after June.
Lake Pukaki is in Canterbury, but no West Coast 'Pukaki' appears in Wise's book of New Zealand placenames. One does appear on-line on Google Maps - the tiny 'Pukaki Lagoon' in the backcountry near the Hokitika River and the back of Kowhitirangi.
However, the Animal Health Board has referred in its advertising to an upcoming drop as the 'Pukaki' operation.
Farmers Against Ten Eighty spokeswoman Mary Molloy said the annual winter drop areas to be doused with 1080 included the Woodstock-Rimu Road to the Hokitika River, and south of Rimu on State highway 6.
She alleged that area was being called Pukaki to confuse people.
Another opponent, Mike Keenan, said he had never heard of Pukaki, yet "my folks grew up in Woodstock".
Kokatahi and the hills on the southern side of Lake Kaniere Road up to the Styx River encompassing Mount Graham, Conical Hill and Mount Upright are also proposed in operations this winter, along with Hohonu near Inchbonnie, Marsden including the hills of New River and Dunganville, and the Greenstone River area.
Kumara has been a hot-bed of 1080 opposition in the past, and Mrs Molloy warned to expect a "higher level of protests".
"People are fed up."
Dillmanstown resident John Acker said a meeting had been called for Sunday, and he hoped people would come along and voice their opposition. He also expects more protests.
Responding, the Animal Health Board said today that during 2012-13, planned ground control operations would cover about 302,932ha, supported by aerial control of around 77,588ha.
"However, the areas covered may change during consultation," spokesman Mike Hansen said.
He named the planned ground and aerial operations as Pukaki, Hohonu, Marsden and Alexander Range-Te Kinga.
Control operations were named after a geological feature within the operational area, Mr Hansen said, without explaining why Pukaki had been chosen for the Rimu-Woodstock area.