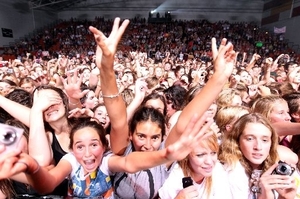 The stories making headlines in the provinces today include a cyclist catapulted 6 metres in the air, a car fleeing the law which became airborne, Toni Street's pregnancy, Reece Mastin and screaming teens and a "quite strange" birth certificate mix up.
A cyclist was catapulted 6m into the air this morning after being hit by a car in Judea in the Bay of Plenty. Meanwhile more stoned drivers are being caught in the province than anywhere else in the country.
In the Bay of Islands, a jet boat operator is facing a fine of more than $100,000 after three women had their backs broken during high-speed jet boat rides.
As the proverbial petrol heads descend upon Hamilton for the final V8s event in the city, motorists are being warned to brace for delays and road closures.
An earthquake registering 5.0 on the Richter scale was recorded near Taupo this morning.
Broadcaster Toni Street may live in Auckland but she is Taranaki-bred and her baby news is "hot property." The news was inadvertently 'leaked' recently and then the media hoards apparently started calling. "It was quite overwhelming that morning," she told the women's group Soroptimists in New Plymouth yesterday.
Meanwhile in Wairoa, a 54-year-old woman was arrested after a dramatic police pursuit during which her car became airborne and ended when she allegedly rammed a police car.
If you are looking for a change of scene, the Manawatu/Wanganui region has been rated the second most affordable area to purchase property in New Zealand. Family ties, employment and positive encounters with the district are apparently the most common reasons people migrate to Wanganui.
Hawke's Bay teenagers screamed their heads off last night as Reece Mastin, "Australia's answer to Justin Beiber", took to the stage in front of a sell-out crowd at the Pettigrew-Green Arena.
Vandalism on genetic modification trial sites may drive scientists to carry out research at secret venues, says GE Free New Zealand president Claire Bleakley, of Featherston.
After undergoing a rigorous security test, a Dunedin mother has been issued with the birth certificate of an Auckland child who has the same first name and birth date as her 4-year-old. Internal Affairs apologised to her for the error, while the mother of the Auckland child described the situation as "quite strange."
"Who steals from children?" That's the distressed cry from Oamaru mother of three Donna Smail, after someone stole two scooters from her backyard in Orwell St.
And over on the West Coast, energy drinks have been banned from Greymouth High amid growing concern about girls using them as breakfast substitutes. A number of primary schools in the area already ban energy drinks.
The top trending topics on Twitter at midday were: #reasonsThatImSingle, #coachella, #YouDontBelongOnTwitterIf, Tupac, Pulitzer, Auckland, Wellington, Twitter, Shut Up And Kiss Me, and Black Sticks.