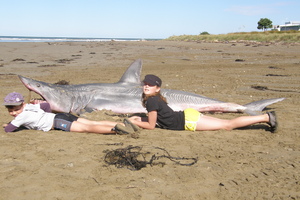 A large mako shark more than 3m long stunned Blackhead Beach holidaymakers when it thrashed itself ashore at the weekend.
The 3.15m shark, which was "too heavy to turn over", caused a stir after it became stranded just below high tide mark at the Central Hawke's Bay beach on Saturday morning. Bach owner Adrian Wiig took the time to snap a few photos of the surprise guest with his grandchildren.
"Someone saw it earlier on thrashing about in the tide, but it died a little later," Mr Wiig said.
"It was too heavy to turn over to check the fins underneath. The kids were truly fascinated."
Department of Conservation shark expert Clinton Duffy said it was unusual to see the species so close to shore.
"Mako sharks this size are not uncommon off Hawke's Bay, as evidenced by the numbers of large makos landed in game fishing tournaments ... [but] strandings such as this are rare."
Despite its size and the species' "aggressive nature", there was no need for local swimmers to be fearful, he said.
"Makos feed primarily on pelagic fishes such as tunas and marlin, other pelagic sharks and squids. However, they can be extremely aggressive and large makos have been known to make unprovoked attacks on boats.
"Makos are famous for attacking boats when they've been hooked."
He estimated the shark was probably a female, aged between 18 and 20 years old.
The marine scientist, who swam with makos off Napier during his research here, said encounters with humans were rare because of their preference for deep, offshore waters.
"Their aggressive nature always meant you had to continually monitor your behaviour towards them."
Mr Wiig said he doubted the incident would deter Blackhead residents from entering the water.
"There are a lot of divers on this beach but no, this is a once in a lifetime thing."
For more articles from this region, go to Hawkes Bay Today