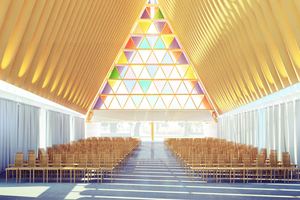 A former Christchurch mayor believes the council should refuse to help fund the operation costs of the planned cardboard cathedral.
The temporary building, to be built on the corner of the Hereford and Madras streets where the demolished St John's Church once stood, is expected to cost about $5m.
Insurance money is expected to cover about $4m, and fundraising will cover the shortfall.
The Anglican Church received $240,000 a year for the running of the quake-damaged ChristChurch Cathedral up until July last year.
It's now seeking the same amount for the building's replacement, Fairfax Media reports.
The application will be considered by councillors in July, however former mayor Garry Moore believed the council should turn down the request, as the church did not involve the public in the decision to demolish the iconic ChristChurch Cathedral.
"There was a partnership between the city and the Anglican church. I think the bishop (Victoria Matthews) has shown she has absolutely no interest in being in partnership with the city," he told Fairfax Media.
"If you are prepared to put your paw out to accept funding from the ratepayer, you have to put your other paw out to hold their hand when there is a need for partnership.
"If I was the mayor, I would be sitting back and saying 'you have failed the test'. I am very disappointed as the person who fought hard to get them that funding in the first place."
However, current mayor Bob Parker told Fairfax Media the disagreements between the council and the church would be put aside when the decision on the funding is made.
Last month the mayor joined others calling for the release of the engineering report behind the decision to demolish the 131-year-old cathedral, however the bishop said she did not need the public to back the decision.
The church yesterday announced the temporary replacement for the central city church, which will be in use for the next 10 years while a permanent replacement of the Cathedral Square church is built.
The innovative church, designed by Japanese architect Shigeru Ban, will be constructed with cardboard tubes, timber beams, structural steel, and concrete, it is expected to last 20 years.
- Herald Online staff