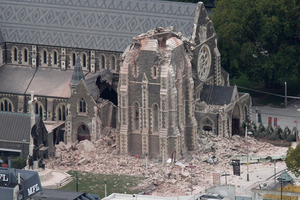 Opponents of the demolition of Christchurch Cathedral are planning a legal challenge and will try to "pressure" Prime Minister John Key and Cabinet ministers into helping their cause.
Their proposed tactics are revealed in an email obtained by the Herald - sent to a number of Christchurch-based MPs and prominent "Save the Cathedral" supporters - which outlines several "key lines of attack" against the demolition.
Preliminary work has begun to pull down the 131-year-old cathedral, which has been badly damaged by earthquakes that have struck Canterbury since September 2010.
The Anglican Diocese of Christchurch said it would be too costly to repair.
The email says there is a need to "dislodge the repeated propaganda about human risk, terminal damage, and the outlandish costs [unaffordability] of full reconstruction".
Among those lines of attack listed in the email is "Legal Approach ... Injunction".
"Our colleagues have ... requested confidentiality about their legal efforts ... a huge amount of focus has gone into this, and for maximum effect it must be managed well in the media etc," said organiser Mark Belton.
"I would only add we are fully supportive of the legal initiative and would urge it is activated with fanfare very soon."
The email also points to the publication of an open letter to Mr Key and the Cabinet "requesting such things as ... immediate halt to destruction plans for cathedral and other Heritage 1 buildings".
"I am all for using prominence of prominent people," Mr Belton said.
"However, perhaps a more inclusive way would be to have 'a citizens of Christchurch and Canterbury letter' with signatories ordered chronologically - which would serve to bring our most prominent persons to the top anyway."
The email also proposes making use of leaked engineering reports.
"These have arrived on our laps, and are now public domain. They are a great source of info to help refute the negative perceptions engendered by Brownlie(sic)/Canterbury Earthquake Recovery Authority (Cera) /and the Bishop."
Mr Belton proposes the recipients widen the search for support from community leaders.
"All of us know strong people who could be very helpful to our cause and would want to assist.
"Please discreetly make inquiries, be careful because some will be conflicted, and forward your good finds ..."
Citizen demonstrations and vigils are also suggested.
"We must have a plan for direct action. Perhaps we can get 10,000 people in Worcester St - and rumble the foundations of Cera and the Church ... we are not crowd rousers, however we have some eminent ones amongst us," Mr Belton said. "Time is critical. We have to hit the ground running early [this] week to deliver our attacks on all fronts by mid to late week."