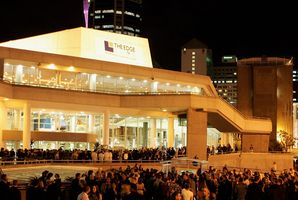 The Aotea Centre needs a new $10 million roof - two years after Auckland City ratepayers spent $45 million on a new roof over the nearby Aotea carpark.
The Herald has learned that the bitumen roof on the centre has reached the end of its life and must be replaced.
More than $30 million has been spent in the past 10 years on upgrading the arts, entertainment and convention centre, which opened in 1990 at a cost of $128.5 million.
Two years ago, $10 million was spent on a facelift for the public stairs in the front of the centre. Another $45 million was spent on fixing the leaky Aotea carpark roof, and $25 million on upgrading Aotea Square.
Engineering consultancy Stephenson and Turner is investigating the Aotea Centre roof after a quantity surveyor last year said it would cost $10 million to repair.
The job has come out of the blue for the Auckland Council, which is mulling over its first 10-year budget.
Last week, there was talk of a $12.4 million top-up from ratepayers for the Auckland Art Gallery upgrade after the Auckland Art Gallery Foundation blamed the global financial crisis for it falling short of its target of $33.4 million in private donations.
Yesterday, a spokesman for Regional Facilities Auckland, the council body which manages the Aotea Centre, said the roof had a lifespan of 20 years.
The 8500sq m bitumen roof had been patched in places over the years, but now needed replacing.
The spokesman said the Stephenson and Turner investigation would take about six weeks and would be followed by a two-month design process.
Details of the full extent of the problem, and the cost and design of a new roof, were likely to go to the Auckland Council around August, the spokesman said.
Work on replacing and paying for the new roof was likely to be spread over two or more years. It was unlikely the Aotea Centre would be closed during repair work.
Council chief finance officer Andrew McKenzie said the council had been warned by Regional Facilities Auckland last year that the roof might need replacing sooner than had been planned - although both parties have kept quiet on the issue.
Mr McKenzie indicated a new roof would be paid for with a mix of Regional Facilities Auckland and ratepayer money. Any council contribution could bump other property renewals down the queue or increase rates by about 0.04 per cent, he said.