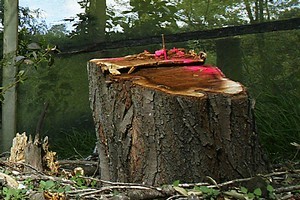 Auckland Council says it's business as usual for its urban tree chopping rules despite a legal challenge from the Property Council and a barrister saying protection is "in a muddle".
Prominent environmental lawyer Russell Bartlett is leading the application to the Environment Court for declarations about the general tree protection provisions in the district plan sections for Rodney, North Shore, Waitakere, Auckland Isthmus, Manukau and Papakura.
Mr Bartlett has not returned calls from the Herald seeking comment about the council's response to Parliament's scrapping of blanket protection from district plans as from January 1.
Acting Principal Environment Court Judge Laurie Newhook has held conferences with the main parties, which include the Environmental Defence Society and the Waitakere Ranges Protection Society.
Council regional development and operations committee chairwoman Ann Hartley said rules remained in place pending a decision by the court on how the Resource Management (Simplifying and streamlining) Amendment Act should be interpreted.
"Until the court hands down its decision [on the Property Council request], our rules remain in force," said Mrs Hartley.
The council's response has locked Epsom resident Helen Wenley into a drawn-out process in an attempt to remove a gum tree which she thought the law change would easily allow.
However, the tree is one of 1800 put forward by council for protection.
She is objecting to that and seeking a resource consent.
Mrs Wenley questions a claim it is 100 years old, saying at the very most it would be 37 years old.
Council arborist Paul Hansen opposed resource consent, saying the tree was structurally sound and healthy and "contributed to the amenity of the neighbourhood ..."
The tree could not be removed while it was under consideration for protection.
Mrs Henley can request a resource consent hearing by a planning commissioner.
LEAVE IT ALONE
Auckland urban tree rules
* Blanket protection removed January 1.
* Temporary protection for notable trees in district plans.
* Property Council asks court to clarify rules.
* Barrister says home owners unsure what is allowed.
* Council gets 120 chopping complaints.