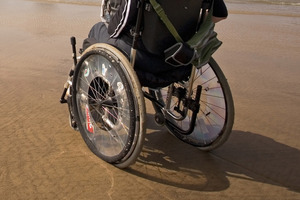 A wheelchair-bound man had to be rescued by emergency services after he fell and became stuck in a swamp south of Hastings yesterday.
He was with a group of friends at Pekapeka Swamp trails when he lost control of his motorised wheelchair and went over the edge of a walking bridge into a waist-deep swamp.
He was stuck for around 30 minutes before ambulance staff and fire officers hauled him back up the bank.
Senior Station Officer Dennis O'Leary says there's no barrier on the walking bridge and that the man is lucky he had people with him to turn him upright.
He was taken to Hawke's Bay Hospital in Hastings in a moderate condition.
- NEWSTALK ZB