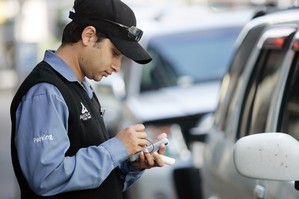 I went for a very expensive swim at Takapuna Beach this week.
I came out of the water with my swimming mate to find a North Shore parking warden standing by my car.
My conscience was clear - I'd put money in the meter so I carried on and put my wetsuit in the boot.
The warden advanced towards me and handed me a ticket. Your warrant of fitness ran out months ago, he said. That's a $200 fine.
What? I exclaimed. I've just had it serviced by the dealer. A $600 service. Shouldn't that include a WoF?
I'd have thought so, said the warden. Write to the council - here's the address, he said helpfully - and see if they'll let you off. They probably won't, he warned me darkly, so I'd tell the car dealership to pay for it if I were you. They should have picked that up.
We ended our brief encounter in mutual agreement, and I made my way to the cafe to pick up another mate who was having a coffee.
My swimming buddy and I checked out the sign in the carpark: only boats and trailers between October and April. Hmm. Did that mean the beginning of October and the beginning of April? Maybe the end of October - Labour Weekend - and the end of April. A bit ambiguous.
However, there were plenty of cars parked without trailers so, assuming the locals knew best, we locked the car and went to collect our friend.
On the way back there was another bloody parking warden. And unlike the previous chap, this one was a right snarky piece of work.
You haven't got a WoF, he said. I know, I replied. Your mate's just given me a ticket.
He chastised me for not having the ticket visible on the car and then told me I shouldn't be parked without a trailer. I pointed out the ambiguity of the sign but he wasn't having any of that.
"It's not ambiguous," he said. "What does Monday to Friday mean?"
I didn't get that particular piece of reasoning at all, and I pointed out all the other cars without trailers. What about them? I .
all got tickets, too, he said with a sneer - and then handed over another $200 fine.
Bloody hell. A $600 car service for a 1-year-old car and I don't even get a WoF? And a swim costs $400? Give me a good, solid clamping any day.