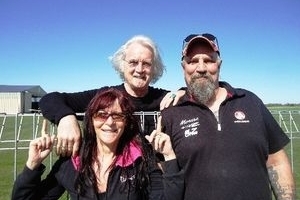 Stories making headlines across New Zealand at noon today include hobbits, fracking, flames shooting from Marsden Point, a fanatical Billy Connolly fan, Hamilton people being encouraged to walk around in hairy feet and daring daylight raids on gnomes.

If you notice large scary flames shooting from the Marsden Pt Oil Refinery from next week there's no need to be panic as its part of planned maintenance.
Never mind the All Black's Rugby World Cup win. Tourism guru George Hickton says Bilbo Baggins and his gang of dwarves will draw more people to New Zealand than the rugby win ever could. He told a meeting of tourism figures in Hamilton they need to "put on hairy feet."
Speaking of Hobbits, Masterton man Mal Harley was so impressed with his chance meeting with Billy Connolly he had the comedian's autograph on his arm made permanent by getting it tattooed. Connolly was hanging out with Stephen Fry at Sir Peter Jackson's Masterton estate for the long weekend. Meanwhile in the Wairarapa, musician Stefan Brown's album "The Angelic Way" has proved a surprise hit in Norway.
A large pod of dolphins spotted off the Tauranga coast could mean that more sea mammals are returning to the Bay, after fleeing to avoid the Rena oil spill.
The man who died when his truck plunged down a steep bank off the highway in the Kaimai Ranges has been named as Athol Ian Bree, 61, of Te Awamutu. A poll asks which are the most dangerous roads in the Bay of Plenty.
In Wanganui, locals are mourning the loss of Glenn Simon Giltrap, 33, a forestry worker who was killed in a workplace accident while tree-felling. " Likeable, hard working and dedicated to his family" are among the words used to describe him.
Support is growing is Gisborne for efforts to save the Gisborne-Napier rail line, with petitions all over town and a public march led by Mayor Meng Foon planned for tomorrow.
Parts of Hawke's Bay are literally eroding away, with bits of coastal roads scattered all over the beaches. As if erosion wasn't enough, locals are increasingly fretting about the alleged environmental impacts of fracking. Fracking allegedly can cause earthquakes, so banning it was a no-brainer for the Christchurch City Council.
Still in the Garden City, Police cars swooped on Burwood after reports of a body floating in the Avon River. Meanwhile out in the fields, 81 year old Cantabrian Russell Ward will be one of the oldest competitors in the NZ Ploughing Championships this weekend in Cambridge.
Property prices are apparently booming in Ashburton, according to latest QV figures. But so are rates in the Ashburton District.
Four Queenstown people and an Auckland man have been arrested after police seized methamphetamine at Queenstown airport. Queenstown tattooist Richard David Allen has appeared in court on charges relating to the drug bust.
Meanwhile a daring daylight raid on garden gnomes in Oamaru has resulted in the arrest of three Dunedin students.
Top trending topics for New Zealand on Twitter at midday include: #breakers, #ICantDateSomeoneThat, #ThingsThatFrustrateMe, New Zealand, Pat Lam, Lily Halpern, Wildcats, NCOE, Star Wars, and Australia.