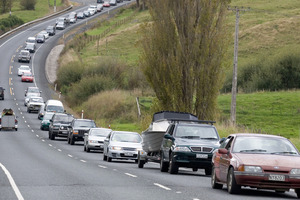 Motorway tolls proposed by business advisers to the Auckland Council risk causing chaos on other roads, says a leading consultant on previous road-charging proposals.
The Automobile Association has also attacked the council's business advisory panel for advocating an average toll of $2 a day without a full analysis of that and other ideas for filling an $11.7 million transport funding shortfall for the region.
Deloitte corporate finance partner Paul Callow said yesterday that "strategic network" charges for using Auckland's motorways were ruled out as the least favourable of five road pricing options raised by the Ministry of Transport in 2006.
Mr Callow, whose firm managed a consultation process in which Aucklanders opposed all the options in the absence of big public transport improvements, said the ministry's study concluded that the cost of collecting motorway tolls would exceed revenue raised.
Not only that, but a network-wide motorway tolling scheme would result in significant congestion on most of Auckland's other roads. He acknowledged that charges considered in 2006 were slightly higher than the $2 recommended by the Auckland business panel, but said people would go to considerable lengths to avoid even that amount.
"We discovered many commuter drivers would resort to using local roads, many of which are fairly congested already, rather than pay tolls," Mr Callow said.
Although the previous study predicted a 15 per cent reduction in congestion on motorways, it warned that vehicle speeds on 15 key routes would be reduced by more than 10 per cent and 84 roads would become slower.
At the same time, toll collection costs would amount to about twice the revenue raised.
Mr Callow said his firm remained interested in seeing some form of road pricing being investigated further for Auckland, as it was impossible to "build your way out of congestion".
Other proposals investigated in 2006, of charging motorists to travel either through cordons around the Auckland isthmus or within a 40 square kilometre sector of the central city, would have paid their way and covered mitigation costs including better public transport.
AA spokesman Simon Lambourne said the council's advisory panel should have taken a lead from the Auckland Business Forum, which had backed away from identifying a preference for any of 12 potential transport funding options put forward by Mayor Len Brown.
"We are slightly alarmed by what we consider a very naive approach, certainly one that lacks any in-depth analysis that would stand up to any robust review," he said of the panel's support for tolls.
Mr Lambourne, whose organisation opposes tolls on existing roads on the basis that motorists have already paid for them through fuel taxes, said the transport funding issue needed months of debate.
"The decision of the business panel to express its preference ahead of any robust analysis has done a disservice to the whole debate," he said.
Councillor Cameron Brewer, who chairs the business panel, said last night that it had done no more than indicate a preference "in principle" for further investigation.
"Of course we want to hear all the arguments, see all the reports, and it's great that the debate has been kicked off," he told the Herald.
"I don't believe the theory that people will go to extreme lengths to avoid even a $2 toll. If that was the case, most people driving north would still be taking the old road through Orewa."