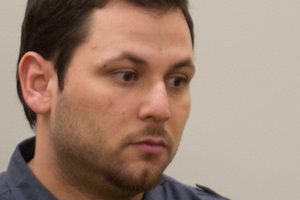 The number of people caught in a sophisticated international skimming scam has ballooned to almost 200.
About 60 bank customers were originally thought to have had large amounts of money withdrawn at ATM cash machines in Canada.
But the BNZ said yesterday that 100 of its customers had been affected, with a total of $30,000 stolen, while 79 Westpac customers have been hit. Kiwibank and ASB customers have also been affected.
Westpac spokesman Chris Mirams said they had found there was "one source compromised" in Auckland while BNZ security manager Owen Loeffellechner said they had also traced the source to a shop within the Auckland area.
Yesterday four men appeared in court in relation to the scam. They were charged with participating in an organised criminal group and dishonestly obtaining 10 PIN entry devices valued at $621, and owned by Direct Payment Solutions, between March and April.
Chea Sina, from Cambodia, William Alexande Rivera-Rivas and Mario Rivera from El Salvador, and Kevin Roberto Flores Roldan, from Canada, were remanded in custody until the end of the month.
The men allegedly targeted eftpos terminals inside stores - possibly by replacing them with modified machines or by tampering with them in-store.
Detectives from the Auckland financial crime unit are talking to Canadian police regarding the four men.
Green MP Julie Anne Genter has come forward as one of the confirmed 179 New Zealanders targeted in the scam.
Ms Genter said her bank statement showed nine separate withdrawals of C$200 ($244) and a $6 international fee.
"I didn't realise because I'd been off the grid for three days, tramping in the Marlborough Sounds, and when I got back to town last night I went to pay for our fish and chips my card got declined," she said.
A 28-year-old victim from Auckland says he couldn't believe it happened to him.
He received a text message from the ASB Bank asking him to contact them. He checked his account to find $618 had been withdrawn in Canada.
BNZ said all money would be refunded. Westpac would also refund all money.
The New Zealand Bankers' Association advised bank customers to regularly check their bank statements after ATM and eftpos skimming scams.
Chief executive Kirk Hope said criminals could "skim" card details by attaching a device to the card reader, and then "shoulder surf" or use hidden cameras to record PINs.
The scam is separate from one that targeted five ANZ and National Bank ATMs in Auckland between February and last month.
KEEPING TABS
As well as checking bank statements customers can help prevent card fraud by:
* Making sure they know where their card is at all times.
* Protecting PIN numbers. "Never tell anyone your PINs or passwords not even the police, bank staff, friends or family." Hope says.
* When entering PIN number at ATMs and eftpos terminals, customers should shield the PIN pad with their other hand.