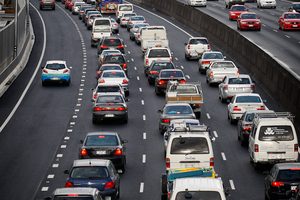 The submission process into ways of funding the huge shortfall in Mayor Len Brown's transport wishlist has not even ended and business lobbyists are already claiming victory. Chairman of Auckland Council's business advisory panel Cameron Brewer says network tolling across the motorway system "seems to be gaining momentum from the business sector as arguably the fairest, the most likely one to generate significant revenue to close the $11.7 billion transport funding gap".
Councillor Brewer said "the panel's preference is decisive and singular".
Of course, tolling is not fair to all users, nor is it very cost effective compared with something as simple as a regional fuel tax. That's if you buy into the argument in the first place, that Aucklanders should pay more for their roads and public transport than other New Zealanders.
Mr Brewer conceded yesterday that tolling was a flat tax that hit the poor hardest.
All heart, he suggested it be levied at a reduced rate for service sector shift workers in off-peak times.
Tolling is also unfair in that it forces the private users who have to pay the extra charges out of their own pockets off the motorways, freeing them up for truckies and councillors, who can pass the charge on as a business expense.
But putting fairness to one side, the big red cross against complicated road pricing systems is the wasteful costs of establishing and running such systems. The Ministry of Transport's briefing paper to the incoming minister in December 2011 highlighted this point: "Auckland Council will outline its proposals for new funding mechanisms, especially those needed to fund the city rail link, early in 2012. The council is expected to propose some form of road pricing scheme to raise revenue.
"Such a scheme would require new legislation to permit charging for the use of existing roads that are not integral to the tolling of a new road.
"Road pricing currently tends to incur higher collection costs as a percentage of revenue than current mechanisms, particularly rates. While it might be an effective mechanism for managing demand and alleviating congestion, it is not currently an efficient tool to raise revenue."
No doubt the ministry's report writer had memories of the costs linked to the tolling of the new Northern Gateway toll road. In the first six months after it's 2008 opening, on average, it cost $1.29 in transaction costs to collect each $2 car toll. Costs have reportedly come down since then, with administrative costs ranging from 13c for an online payment to $3.85 through the call centre.
In March 2008, the Ministry of Transport received a report on Auckland road pricing charging mechanisms from Hyder Consulting (NZ). This followed up on a study in 2005 that canvassed a range of possible charging methods, including the motorway tolling system being pushed by Mr Brewer's group.
Hyder's preference was for either a congestion or a revenue system, based on charging every vehicle inside a cordon enveloping the central city, looping around from Pt Chevalier, along St Lukes and Greenlane Rds, out to Meadowbank then north to Orakei Basin. Any vehicle moving within this cordon would be charged between $3 and $6 a day.
The default charging system would be via a transponder attached to each vehicle communicating with overhead monitoring devices. A network of cameras would have to be set up to police the system, and presumably bill vehicles without transponders.
The system would have to be linked into an upgraded version of the Northern Gateway tolling system. For a basic revenue gathering system, the costs of the roadside electronic paraphernalia is $23.19 million, while the back office system was an extra $33.63 million, a total of $56.82 million. An anti-congestion system would cost $86.98 million to set up.
The annual operating costs of the revenue gathering system were $10.65 million, for a congestion system, $12.16 million. The upside is an estimated annual revenue of $133 million for the revenue system, or $169 million for the congestion system. The consultants do admit that "key factors" are that there be a "high proportion of regular users" and high take-up rates for transponder-based direct payments. They are also expecting future capital costs to reduce.
The reality is, whether one fancies an Auckland road pricing system based on motorway tolling or the cordon system, there's no sign from Parliament that there is any stomach for forcing Aucklanders to pay a surcharge for using the public roads and highways that other New Zealanders do not face.
That the Government has cancelled the regional fuel tax passed by the last Labour government at Auckland's behest is a good indication such geographically selective taxing isn't going to fly.
The public consultation following the 2005 report highlighted opposition to road pricing on many fronts. There were concerns about the adverse impact on CBD retail and commercial activities. Equity issues were raised. There were also demands for a viable public transport network to be in place before any charging was introduced.
For me, the demand for better public transport first is the key. Instead of spending upwards of $86 million to install a tolling system, surely that money, along with more of the state highway budget, should be redirected towards building the passenger transport options that might well help unclog the roads without the need to build more.